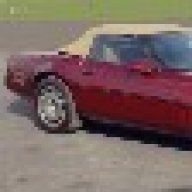 Joined

Jan 20, 2005
Messages

456
Location
Corvette

1987 Convertable
Gauges normal. I smelled anti-freeze and my first thought was to check the passenger floor pan for a leaky heater core. It was dry but steam was coming out from the right-front wheel well. Looked under the car and there was a gusher going from the radiator or front of the engine.

The liquid coming out was a mixture of coolant and oil. Temperature still hovering at about 210 so I drove it to the garage, about 3 miles. Temp was about 220 on arrival.

Mechanic looked at it and removed the radiator cap. Started the engine and the coolant gushed out the cap. The pressure had built up so much that it blew the seam on the right side of the radiator tank. Apparently the pressure cap was bad.

Right now, it looks like at minimum I'll need a radiator repair, if not replacement, and head gaskets. Don't think it got hot enough to screw the heads but we'll take a look at those while they're off just in case. I'm thinking it's time to replace the valve guide seals anyway and it was due for oil and coolant changes. (Gotta look at the good part, right?)

Question is.......what's reasonable dollarwi$e for this job?