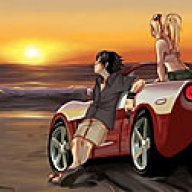 Site Administrator
Staff member
Administrator
Joined

Sep 16, 2000
Messages

13,779
Location
Corvette

1990 Corvette ZR-1
I recently added this to the Knowledgebase and thought I'd post it here as well:
From VETTE Magazine, May 1993, pg. 25:

"The Bowling Green Corvette plant has temporarily ceased ZR-1 production. However, there's no mechanical fault with the car. apparently, the ZR-1s have gained weight. This nullifies their governmental certification documentation. In other words, the EPA classification under which the ZR-1 falls has changed with the weight gain--it has fallen under a different category. They are over the mark by 3.8 kg.
An easy remedy has just been put into place, though. The 42 finished ZR-1s affected by this at Bowling Green will be modified to reduce their weight back to certified class. Fuel tanks will be limited to 18.5 gallons from 20, and fuel filler necks will be revised.
The rest of the small weight loss program was to have been put into effect as of March 8 and will not be employed on cars that have already been built.
This engineering change is comprised of the loss of a steel member on the inner and outer front panels (which Chevy says doesn't need to be there), replacement of a steel rear frame extension bolt-on bar with an aluminum component, and foam filler to replace the GM Guideflex honeycomb backing the front and rear fasicas. Recertification or modification on '93 ZR-1s already in owners' hands will not be implemented.
So, after '93 production is done, there will be 20-gallon tank cars and cars witih 18.5-gallon tanks plus all the other changes noted above.
Collectors take note: There are about 160 '93s that predate these changes. Buy now! They'll be worth millions somdeday! --James Resnick"