For Sale 2007 Z06 with 635 HP motor from Cevy Skunk werkes folks in Detroit. Chassis lowered 2", coli over shocks and adjustable sway bars. Bright yellow.
Headers, cam and head work, Borla exhaust by K teck folks. All mods were $15,000 and completed right after delivery.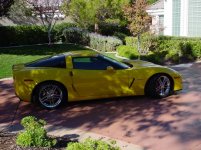 Original owner from new. 13792 miles. No accident damage.
Can not bring car to Asia the duty is 150,000 USD that is the only reason for sale
Asking 45,000