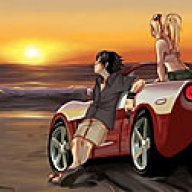 Site Administrator
Staff member
Administrator
Joined

Sep 16, 2000
Messages

13,790
Location
Corvette

1990 Corvette ZR-1
SAE Technical Papers
Title:
An 1800 HP, Street Legal Corvette: An Introduction to the AWD Electrically-Variable Transmission
Document Number:
2005-01-1169
Author(s):
Codrin Gruie Cantemir - Ohio State Univ.
Christopher J. Hubert - Ohio State Univ.
Giorgio Rizzoni - Ohio State Univ.
Abstract:
New vehicle technologies open up a vast number of new options for the designer, removing traditional constraints. Though hybrid powertrains have thus far been implemented chiefly to improve the fuel economy of already economical passenger cars, hybrid technology may have even more to offer in a performance vehicle. In the year when the C6 Corvette and two large General Motors Corporation hybrid projects have been unveiled, a new case study looks to combine these ideas and explore the performance limits for the next-generation, high-performance sports car. Through an innovative transmission concept and thoughtful packaging, the next-generation Corvette could enhance a 600 HP spark- ignited V-8 (supercharged LS2) with 1200 HP from electric machines, and still meet current emission standards.
Such immense tractive power, however, would be useless without an intelligent means of delivering this power to the wheels. A two-wheel- drive system was obviously inadequate; therefore, a new all-wheel-drive transmission is proposed. The engine power will be distributed through an electrically variable transmission able to continuously regulate the speed and the amount of power delivered to each axle. For a short time, the transmission can supplement the engine power with that supplied by a Nickel Hydrogen battery pack.
File Size:
1035K
Product Status:
In Stock
Included in:
SP-1973
Source:
http://www.sae.org/technical/papers/2005-01-1169