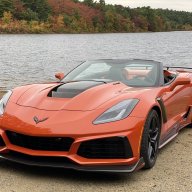 Joined

Feb 10, 2019
Messages

40
Location
Corvette

2019 ZR1 Sebring Orange Convertible 7-speed.
Good morning folks.

I thought I'd reach out to The Community for additional information and to provide some.

At issue is the development of a high-pitched whine coming form the Supercharger on my 2019 ZR1.
The noise first started out around the beginning of July as a fixed-pitch, fixed volume whine at around 2200 rpm. At the next service, July 11, (24,000 miles) I had the dealership investigate and they did not hear the noise until I pointed it out to them. It was more noticeable on the passenger side of the car. They advised me to keep an eye on it, but to continue to drive it until I could take it back for additional investigation.

As of Monday, Aug. 21, the noise characteristics had changed: The onset was on vehicle start and at around 1200 rpm. The noise had also started to vary with or without rpm change and got noticeably worse round 2200 rpm. So back to the Dealership it went.

I just received the diagnostic report and the short story is that they are going to replace the Supercharger...under warranty. The holdup will be the availability of Intake Manifold gaskets and any other parts; the Supercharger seems to be available as of now.

If you are experiencing any unusual noise from your Supercharger (IT should not sound like a Ford Super Duty Turbo Deisel), I'd advise you to have it looked at while the warranty is in place. It is a $14,000 job.