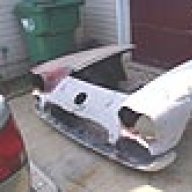 Joined

Jun 18, 2003
Messages

475
Location
Corvette

'59 Corvette #5366
Hey Gang,

Well, it's time for another update regarding the
ever-growing '59 Registry. The following cars have
been added as of today:

8192, 8823, 0416, 4655, 0585, 5326, 6682, 8292, 8978

Thanks goes out to "Sander" and Rob Musquetier in the
Netherlands, as well as to Alan Blay here in the
States, for details they have provided on some of
those cars. I am still adding pics and more info, so
be sure to check back regularly.

Other updates: For those of you in the vicinity of
Reading PA, be sure to make time this weekend for the
Corvette show happening at Stoudts Corvette sales.
For more info, check out the link on the main page of
the '59 Registry. The show was scheduled for this
past weekend, but due to rain it has been rescheduled.
They always have a great turnout.

Also, if you're not all set to go to Corvette
Carlisle, you better get moving! The festivities
begin on Friday, August 26th. Over 80 acres of
Corvettes, parts, accessories, and more are in store
for you there!

The '59 Registry Forums section has been upgraded to
include a classifieds section for NON-'59 Corvettes
and related parts, so feel free to use that section
for other 'Vette items you may be looking to sell.

Finally, if you haven't signed up yet, be sure to
subscribe to Toy Cars and Models magazine through the
main page of the '59 Registry. You know as well as I
do that car nuts are more often than not toy and model
nuts as well- You also get a break on the
subscription price, just for going through the
Registry. So, what are you waiting for?

Thanks to all for your continued support of the 1959
Corvette Registry, and hopefully I'll bump into some
of you either at Stoudts or Carlisle. Until then,
keep those classics on the road!