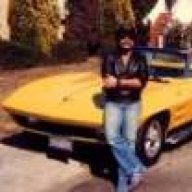 Joined

May 1, 2002
Messages

80
Location
Corvette

1963 Convertible 327/300 3TL
Hello, Folks,
I need some assistance. I am in the process of rebuilding the steering column on my 63, and I am confused about the replacement upper bearing assembly as provided by Corvette Central. This is what I got:
http://i145.photobucket.com/albums/r217/kbuhagiar/63SteeringColumnUpperBearingAssy004.jpg
This is the original upper bearing assembly I removed from my column:
http://i145.photobucket.com/albums/r217/kbuhagiar/63SteeringColumnOldBearingAssy008.jpg
The old parts seem to correspond to the parts listed in the AIM and the service manual. Also, the old bearing assembly is constructed of nylon and would appear to have better insulating qualities.
The new parts consist of:
(1) a metal bearing assembly surrounded by a flat rubber o-ring (insulator), with the horn wire soldered (somewhat sloppily) to the horn ring contact surface. The solder blob looks like it might get a little too close for comfort to the mast jacket...but I can probably fix that. Actually, my old bearing assembly seems to be better engineered than this 'new' part;
(2) A felt washer, which would appear to have to fit over the steering shaft on the underside of the bearing assembly, although I am not sure what is supposed to hold it in place, or what it is for;
(3) A spring and a conical washer that fits into the end of the spring, presumably to keep the bearing seated/centered over the shaft.
I have checked all of my available references (AIM, service manual, all the Corvette parts suppliers catalogs) and I can't quite figure out how these new parts should go on. The AIM and the service manual clearly refer to my old setup, but nothing resembling the new.
Do these look like the right parts for a 63?
If so, how do all of the parts go together?
Does the washer go between the spring and bearing, or does the washer go between the hub and the spring?
Does the felt washer belong under the bearing?
Should I start drinking heavily?

Thanks in advance for any information.