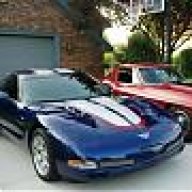 Joined

Jun 7, 2005
Messages

763
Location
Corvette

67 427 tripower,68 427 tripower,04 Z16, 62 340hp
I need some clarification.. the 68 came w/ what I thought were the original 7in. wheels (only 4 - no spare) so I ordered a new reproduction rim from Zip products.
This weekend I took the 4 old rims, power brushed and then painted rally grey, to get the TAs mounted. When I opened the Zips rim it measures 8 inches out to out. Hmmm, so I measure the original rims and they measure 7 inches which sounds correct. I call Zips to tell them that they sent me the wrong rim and they proceeded to explain that a rim is measured at the bead of the wheel, not out to out, and they had sent me the correct wheel.
Can someone explain to me if my car came w/ MIDYEAR rims(did very early 68s get some 67 carryovers?) or is Zips telling me a story..