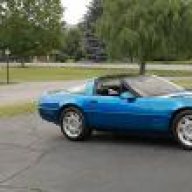 Joined

Dec 26, 2002
Messages

105
Location
Corvette

1991 Blue Coupe
81 Horn(s) Physical Locations?

I have owned my 81 Vette for 4 years now and my horn(s) (not sure if there should be one or two) have never worked. Well, I pulled my radiator / shroud / electric fan assembly this weekend, I will be replacing with a Dewitt aluminum, and I figured I would find my horn(s) and try and troubleshoot. I figured they had to be up in the nose area somewhere and I would be able to get at them with all this available working space and things out of the way.

Well, step one in troubleshooting a success; there are no horn(s). My Chilton's manual did not provide any location or wiring info to help me locate. Can someone please provide specific physical location of the horn(s) mounting? I would also like horn wiring color and wire run locations.