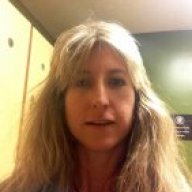 Joined

Jun 12, 2002
Messages

894
Location
Corvette

1990 Convertible
Thanks everyone for your wonderful info. It appears a lot of us are concerned about our vettes running hot.

I have flushed the system, refilled, and have not done any other modifications YET. So, today I did a test. I rolled up the windows, turned on the A/C and wanted to see how hot the sucker would get. Keep in mind today it is 107 degrees in sunny, hot Tucson.

84's apparently only had one fan, which SUCKS the big weinny. Without the air on, I can sit at an idle during a normal duration traffic light and watch the temp increase about 5 to 10 degrees. No overheating though so this is tolerable WITHOUT the A/C.

With the A/C on, FORGET IT. The temp skyrockets considerably. Now, when I am in motion everything is alright - unless I am traveling uphill and have the A/C on. It gets to 226 and I freak out and shut off the air.

So - I think I have decided to first get a second aftermarket fan to put in the front to help with the sitting still problem. Second, I think I am going to go with Eckler's heavy duty, three row radiator, and I am also going to add some of that additive to lower the temps 20 degrees. I am only doing all this so I can enjoy my air conditioning.

Now that I have typed all this, is there any way to tell if the air compressor is putting too harsh a load on the motor? Is there any easy test? I don't trust "garages" to tell me the truth and inevitably something else gets broken in the process of visiting those places so I would rather attempt to fix myself. Any suggestions would be great!!