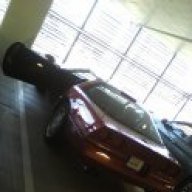 Joined

Mar 3, 2011
Messages

33
Location
Corvette

1989 Dark Red Coupe
Hello All!

I just bought my dream car a few days ago! An '89 Dark Red Coupe w/ Black Leather Interior with just over 100K miles.

First, let me say that what I put in the subject line is true, although the headlights/parking lights/fog lights work perfectly. When I turn on the turn signals, left or right, neither cornering lamp comes on. Also, when the hood is raised, the underhood lamps don't illuminate. I thought these were supposed to come on as soon as the hood was opened, by way of a mercury switch, but I can't find it.

I already tried the most obvious by replacing the bulbs, but that didn't help. My next stop is the fuse block. If that isn't it, do any of you have any other ideas?

~~~~~~~~~~~~~~~~~~~~~~~~~~~~~~~~~~~~~~~~~~~~~~~~~~~~~~~~~~~~~~~~~~~~~~~~~~~~~~~~~~~~~~~~~~~~~~~

Thanks for your feedback everyone! I was able to discover that indeed the weatherpak connectors for the underhood lamps had been disconnected. Now the lights work, but I'm wondering were to get the gaskets to seal the lens against road grime from getting inside the housing. Both of the lenses were blackened by dirt and "gunk" from the engine bay & the road. I've searched the catalogs at Corvette Central and Mid America Motorworks and can't find a reference to them being available. I could make my own, but if they're readily available somewhere, I'd rather do that, at this point, than to invest the time in this, when it would be well-spent on re-upholstering the seats.

~~~~~~~~~~~~~~~~~~~~~~~~~~~~~~~~~~~~~~~~~~~~~~~~~~~~~~~~~~~~~~~~~~~~~~~~~~~~~~~~~~~~~~~~~~~~~~~~~~~~~~~~~~~~~~~~~~~~~

To my surprise, the cornering lamps do work! Nothing is mentioned in the Owner's Manual about them only working at night. I happened to be following a dark-colored Toyota truck the other night and was able to see the reflection of my 'Vette in the tailgate when I pulled up behind him. When I turned on the turn signal the cornering lamp came on. It was the first time I'd driven after dark.

Now, however, I have a different problem. I drove the car on a trip over the weekend. When I was getting ready to leave my home, I started the car right up, but it died almost immediately. After that, it wouldn't start. I tried 2 or 3 times and it wouldn't "catch." I finally did get it started after waiting about 10 minutes. On the way back home, yesterday, I stopped for a food/restroom break, and when I tried to leave, it wouldn't start. It would crank, but not fire off. In addition, the turn signal & high-beam indicators were on solid and the gauge cluster had no backlights. The headlights were not on. I'm thinking that my no-start issue is probably the need for a new fuel filter. It has 104K miles and I'm unsure when it was last changed. As for the dash issue, I have no idea. I didn't drive the vehicle today for fear I would get stranded at work, but I went out to check it when I got home and now the turn signal & high-beam indicators are off and I have backlights again. No fuses were blown. That's the first thing I checked yesterday. Anybody have any suggestions? You guys have been spot-on so far.