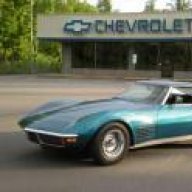 Joined

Sep 27, 2006
Messages

131
Location
Corvette

1972 Bryar Blue Coupe 1993 40th Coupe
OK I know I am not the first one to tackle C4 Bose Amp repairs from the "scratchy, poor sound, squealing, etc." problems. I thought those interested may want a first hand updated report.
Over the weekend I pulled out the rear amps. Total time to remove about 10 minutes each.
Since we are talking about amps averaging 20 years old take if from this recovering technician now working as EE the aluminum electrolytic capacitors have dried out; don't bother troubleshooting them just shotgun the replacements while the board is out.
I ordered all the round electrolytic capacitors (see Gary James' excellent writeup at the link below for parts/location diagram) from Digi-Key for all 4 amps, about $32 including shipping.
First amp took a little longer than the second of course to repair. Estimated it took about an hour per amp board to change out all 9 front amp/10 rear amp capacitors.
No offense to anyone's electronic skills but I would rate this a 8 out of 10 on the difficulty scale. (Translation if you don't have a vacuum solder tool and experience working around small pc board traces, holes and surface mount devices find someone to do it for you)
Result: Both rear speakers working like new and front ones go under the solder knife this week.
courtesy of Gary James @ZR1 Net Registry
http://www.zr1netregistry.com/Portals/0/Bose2.pdf

Best of luck,
Mike