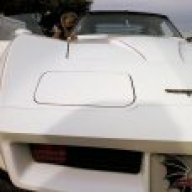 Joined

Jan 23, 2003
Messages

473
Location
Corvette

1981 White/ Red int.
Air Pump/Related Items,I'd like to leave Them off !

As some here know I just did the Timing set change in my 81.

While my Air Pump is hanging in the breeze, I've always wanted to eliminate the computer controlled carb, distributor etc.

Install a vacuum HEI and maybe Eldbrock Carb and remove all the smog stuff.

Does the computer control the tranny on a 81?

Will the computer toss up any codes if I pull all the emission stuff off?

Anyone done what I'm looking to do...sure could use some guidance.

Thanks...

PS not worried about emission testing as I'm well under the 5000 mile per year cut-off.