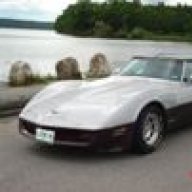 Joined

Jun 28, 2005
Messages

581
Location
Corvette

1982 silver/claret
it just occured to me that my car is now 25 yrs old
I live in Massachusetts and here is there policy on antique plates:
Definitions:
Only motor vehicles meeting the definition of an "Antique motor car" may display an Antique registration plate. At the
discretion of the Registrar, a Year of Manufacture registration plate may be issued for display on an "antique motor
car" in place of an Antique registration plate.
An "antique motor car" is any motor vehicle over twenty-five years old maintained solely for use in exhibitions, club
activities, parades, and other functions of public interest. This includes test drives to prepare for such functions and
transportation to and from repair facilities, and not used primarily for the transportation of passengers or goods over any
way. A motorcycle is eligible for an Antique registration plate.
I do drive it to work and running errands in the summer, so I guess its not the plate for me. Besides I don't think i want to be known as antique ;-)
My son might be buying a car older than me so I was thinking it would be fun for him to have antique on his ride, but same thing he doesn't meet the criteria? Are they that strict where you live on the limitations for the antique plate?