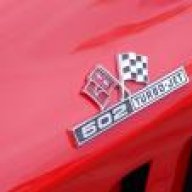 Joined

May 28, 2004
Messages

2,410
Location
Corvette

65 BB 502 Cp /MSD ATOMIC EFI/ 2009-HUMMER H2
I have the BG 750 Mech Sec Double Pumper. I'll make this short and sweet. You BG owners will know what I'm talking about.
The Secondary Plates are covering the transfer slots in the sec Barrles as per the directions for under 1000 rpm idling. The manual says nothing about adjusting the rear Idle Air screws in this configuration. If I move them in and out I do get some reaction but not like the front screws.
The question is........Do I screw them all the way in and froget them...??? Or try and adjust them into the mix..?? Since the idle air transfer slots are not exposed..adjusting the jet screw seems worthless. I called BG but I was number 7 in the "Q" line to be answered. Didn't feel like waiting 2 hours..