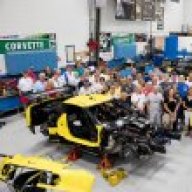 Joined

Aug 26, 2004
Messages

3,489
Location

​
This Week's Stories...
GM Supplier Discount for Members
Go-Karting at the NCM Motorsports Park
Win a 2017 Black Corvette Coupe
Travel the Northwest Passage
Own a Piece of Stingray History
Corvette Store Featured Items
eBay Auction: NCM Rug
Upcoming NCM Events
​
GM Supplier Discount for Members
​
Beloved by both collectors and motorsports enthusiasts alike, Chevrolet Corvette is the pinnacle of GM engineering and design - but you already know that. That's why GM is proud to offer Members of the National Corvette Museum the GM Supplier Discount. You can save hundreds, even thousands, on eligible, new Chevrolet, Buick, GMC and Cadillac vehicles - but we have a pretty good idea which vehicle you'll want to use it on.


Take advantage of the discount by contacting Stephanie Morrill (270-467-8837) or Becky Madison (270-467-8836).


Upon obtaining an authorization number, simply take it to a participating dealer and use it by 12/31/17. Not available with some other offers.


Not a member but want the discount? Join online here!

​
Go-Karting at the NCM Motorsports Park
​
A whole new level of fun will be available at the NCM Motorsports Park next month with the addition of a karting track in the paddock - offering both "arrive and drive" and private events. Arrive and drive is $20 per person for an 8-minute session (height requirement 50").


For those businesses and clubs looking to get their brand in front visitors, we have 18 kart sponsorships available. A kart sponsorship includes four 8" x 24" custom decals on one kart and a 10% discount on a private karting party. Pricing is $1,000 for one year, or $2,500 for three years. For $500 more you can also receive a 4'x4' custom fence sign on the karting track.


Special thanks to Campbell Chevrolet, Pepsi and Showtime Motorsports for sponsoring karts!
​
Reserve Your Kart Sponsorship By Contacting Taylor at 270-777-4554 or Via Email →​
​



​
Win a 2017 Black Corvette Coupe
​
Your next chance to win a Corvette is Thursday, March 16 at 2pm CT when we draw a winner for our 2017 Black Stingray Coupe Corvette Raffle.Tickets are $150 and the raffle is limited to 1,000 tickets.


As of Thursday, March 9 we have sold 501 tickets.
​
Travel the Northwest Passage
​
Seattle and Tacoma Washington are where our travels will take us this July 26-30. This Museum in Motion trip will explore popular spots including the LeMay Museums, Seattle Center (home of the Space Needle), Pike Place Market, Mount Rainier, Museum of Flight and more.


NCM Staffer Vince Perriello and former NCM Board Member Len Tucker will lead the fun-filled adventure.


Registration Fee:


NCM Members – Primary Registrant (driver and car) $1850 / alternate driver $300
NCM Non-Members – Primary Registrant (driver and car) $1890 / alternate driver $340 (includes 1 year discounted membership to NCM upon completion of tour)
​
Own a Piece of Stingray History
​
Exclusive, limited edition "C7" Stingray Press Kits available! These numbered kits were gifts to media and other VIP guests at the official reveal of the Seventh Generation Corvette, courtesy of Chevrolet. Get yours for a tax deductible gift of $500 to the Museum.
​








​
Corvette Store Featured Items
​
​
C3 Corvette Children's T-Shirt

$13.00

​
​
Life is Better Ladies' Hooded Top

$30.00

​



​
eBay Auction: NCM Rug
​
Own a piece of Museum memorabilia! This 43" x 67" rubber-backed rug features the National Corvette Museum logo and was used in the Museum. Auction ends Thursday, March 16.
​

Upcoming Museum Events
Michelin NCM Bash | April 27-29, 2017
Museum in Motion Annual 'Tail of the Dragon' / Biltmore (Asheville, NC) | April 30 - May 3, 2017
Museum in Motion: NASCAR in the South (Charlotte, NC) | May 8-13, 2017
C4 Gathering | May 18-20, 2017
Museum in Motion 24 Hours of Le Mans (Paris / Normandy / Le Mans France) | June 10-21, 2017
NCM Le Mans Viewing Party | June 17-18, 2017
Museum in Motion Northwest Passage (Oregon / Washington) | end of July / early August 2017
Museum in Motion California Dreamin' | August 18-23, 2017
Museum in Motion 'Diamond in the Rough' (Roanoke, WV) | August 27-29, 2017
23rd Anniversary Celebration | August 31 - September 2, 2017
Museum in Motion National Parks Tour (Arizona / Utah) | September 17-23, 2017
Museum in Motion: Kentucky 1-Lap Tours | October, 2017
Vets 'n Vettes presented by Mobil 1 | November 2-4, 2017
National Corvette Caravan | August 28-31, 2019