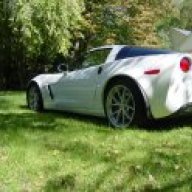 Joined

Aug 7, 2013
Messages

89
Location
Corvette

2013 Z06 1LZ
Or, at least it feels that way....

After 17 months, the OEM GY EMTs finally needed replacement. I got a set of Michelin Super Sport (non EMT) tires installed. OMG!!! The difference is like night and day!!
1) No more hop and chatter from the front tires when doing a tight turn.
2) No more deafening howling
3) No more tramming (unless the roads are really badly rutted)
4) No more pancaking or crab walking on badly chopped up roads--I live in New England, and the plows really chop up the roads here. Not to mention all the frost heaves.
5) No more having the rear end roll over a cold paint line on the road doing a 90° and have the rear end just fly out to the side
6) No more nailing the gas at 3500 rpm and having the car want to do a pirouette to the left lane on the highway
7) Hello smooth and supple ride (It now rides smoother than my Mazda 3iT!!)
8) No more riding on chopped up pavement and having the steering wheel try to twist out of my hands
9) The car feels smaller and not as wide on the road
10) Most I was able to pull, G wise, from the GYs was a bit over 9g. Not bad, but, the Michelins did 1.14 around the same turn.

The only thing I can say about the GY EMT OEMs is they kept the rims off the pavement. If I had to rate them from a 0 (worst) to 10, I'd give the GYs a ZERO with a foot note *not worth the powder to blow them up with. They OEM GYs absolutely RUINED the Z06's handling.

With these tires, it feels like I upgraded everything. These tires feel like they were made for my car.

Originally, I almost decided against getting a Z06 after driving a 2012 with 1300 miles on it. I took it out on the highway and it trammed like crazy. I decided that the fundamental design of the car's suspension was sound. And that it must be the tires causing the uncomfortable instability. So I took that gamble. Thankfully, my past experiences with HiPo tires allowed me to make the right decision. It WAS THE TIRES!!

Note: I've also heard that Bridgestones and Nittos work very well, too. I choose the Michelins because that's what the new C7s are using, and the handling of these cars have been winning accolades, even in Europe, where they largely hate Corvettes. Amazing the difference a good set of tires make!