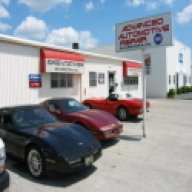 Joined

Jan 8, 2004
Messages

381
Location
Corvette

'96 coupe (Torch Red), '85 4+3 coupe (flat black)
Hey CAC'ers...
As some of you know, our shop car at Advanced needs a lot of work, from body to interior...The decision was made to attack the body and paint work at this stage of the game. The before pics are on my site under the "Black Light" page.
A little background for those of you who aren't familiar... BL is a street beat '87 Z52 coupe with body updates (96 bumper covers front and rear), that the previous owner tried to create as a Grand Sport clone. There are numerous "Mikey Meatcleaver" fixes here and there, but nothing I can't handle.
The name "Black Light" comes from the paint, which photographs as blue, but appears to the naked eye as purple, similar in color to a UV light (black light bulb). The plan is to refurbish all areas, mechanical, interior and body for a "show and go" streeter.
The body isn't as bad as I thought it would be, Bubba "updates" aside. The previous owner decided that he didn't like the door side moldings, so they were filled in with plastic body filler. Same with the fenders and the rear quarters. We were lucky "Bubba" didn't properly prepare the doors, so we didn't have as difficult a time removing the filler. Two nights of sanding and the molding tracks are good to go. From the look of things, this is the second paintjob it's had over its original Dark Red Metallic. Next up is repairing some more Bubba Bodyslammer body issues. The bumper covers were "creatively" attached (think Home Depot/ Lowes hardware, etc.), and the lamps were held on with silicone and duct tape in a couple of spots. We're correctly attaching the bumper cover with the '96 pieces. I already had '96 fenders, so that's covered as well. All told, doing work mostly at night after hours, Black Light should be ready for its new paint in a couple of months. Most likely, I'll keep the same basic design as it sets off the new wheels I put on (Center Line Longboards).
Pics will be uploaded to the site so you can see the progress we're making as well as the final finished product.
Thanks for reading my first "self promoting" post.