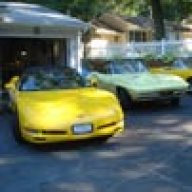 Joined

May 24, 2001
Messages

3,908
Location
Corvette

1966,and a 1962 thats almost complete
This is a question to the folks who are driving a C1 now
So we are going on a year now since I started driving my 62.
I have always said the car drives like my wifes C5 except its faster
Well I took the wifes C5 on 3 hour drive for a doctors visit,and one of the big differances is that the C5 is absolutely rock solid and doesnt have a rattle in it.
My 62 on the other hand has some rattles and some body flex that i am trying to determine if its normal.
My body is mounted to the frame with some rubber 1/2 rubber grommets compressed to 3/8" and I am wondering if I need to eliminate the rubber and install something more dence
So please try this and tell me what happens in your car
Top down,window down Left hand holing onto the windsheil frame/door post
When I am doing this driving down the average road (not a rut filled pot hole invested road) but just a normal road.
I can feel the gap between the door post and the windsheild closing and opening,Does your do that? is this nor mal in a C1
I have asked local C1 guys this question but they all get excited and start claiming there car is rock solid and not falling apart.
Carlilse 2005 I was talking with this fellow who had a lot of questions about the 62, I could tell he was a car guy for sure because his questions were real mecanical. Any ways one of his questions was how bad is the cowl shake on the car at speed. I said I dont know as I dont have many miles on it and wasnt sure what the term cowl shake meant. Now I think I know what he was asking and I have it and dont like it.
PS any know who this guy is
I did not until a fellow next to me with a Gran Sport pulled me aside and told me.I was hoping to run into him again this year at Carlile but did not see him