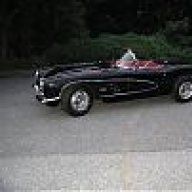 Joined

Dec 24, 2003
Messages

388
Location
Corvette

'59 Blk/Red, '12 Crystal Red GS
Hi all,

I'm a C1 owner who is seriously considering becoming a C-3 owner as well. I have a car in miind that I looked at a couple of years ago and actually had an NCRS / appraiser look at the car and he basically liked.

However, I htought I was ask here about othe questions to ask befoer I "pull the trigger" on the deal.

What I know so far: Car is a '71 Coupe with 350/270 motor, AC (working great I'm told), PS, PB, TH300 auto. Odometer does NOT work and was told it is about a US$ 500 fix; radio does NOT work as well (may have himi fix this as I HAVE to have tunes). Car has incorrect ext/int color combo, but that doesn't bother me.

I also re3ad in current CE magazine about frame and 'birdcage" rust (very timely article for me !), but have been assured that this is not a problem.

My questions: What other areas can be problems on this car ? Anything particular about this year thats good and/or bad ? Is odo fix really that difficult ?

Any and all help would be appreciated,

thanks,

Bernie O.