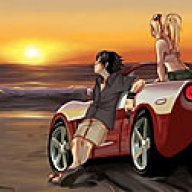 Site Administrator
Staff member
Administrator
Joined

Sep 16, 2000
Messages

13,887
Location
Corvette

1990 Corvette ZR-1
Earlier this morning, a new member joined the Corvette Forum web site and made a new thread in their C8 forum entitled "Code name ZERV", with what appears to be, screenshots of CAD images depicting the mid-engine C8 Corvette.

No mention of what they are and the images were quickly removed with no further word from the new member.

We were, however, able to grab the images shown below.

A response from CF member: "firebirdfan" made some interesting observations:


---
"These are straight up CAD images from the mid-engine car. This is your C8, people.
From the images:
-Coil springs (FINALLY).
-Magshocks (or spool valve, either way, fancy shocks).
-Upper front arms look to be similar to C5/6/7 with trunions.
-Lower front arms look to be similar to C5/6/7 with camber eccentrics.
-Rear subframe is HUGE and is a very strange mix of cast parts and welded tube. Can't tell if it's welded or bolted together in the middle.
-Engine is an LT1.
-Looks like factory shorty headers instead of cast manifolds.
-Engine has alternator relocated.
-Not sure what the upper-right accessory pulley is for. Upper left is water pump, lower right is AC.
-Oil filter looks easy to get to.
-Oil cooler clearly shown above filter.
-Half-shafts look to be the "bolt on flange" style (no draining trans to remove shafts).
-That transaxle is BEEFY. Like, dear god. Can't tell if it's auto or manual. If I had to wager, that's the automatic (guessing from shape of bottom of trans and what looks to be coolers hanging around it).
-Giant flat space above transaxle is more than likely for intake box/filter.
-No turbos shown.
-Frame looks to be similar to C5/6/7 with giant hydroformed rails (probably still aluminum). Disappointing. I was hoping for proper unibody. Hopefully with a fixed roof it'll be stiffer.
-Brake rotors are 1 piece. Calipers are MASSIVE.
-Side skirts are mechanically fastened just like C5/6/7. Still going to be horrendously expensive to fix if damaged.
-Brake ducts clearly shown on front.
Guarantee that Tadge is fighting some fires right now.
Can't wait to see this thing released."

The CAD images appear to be legit. So a leak made on purpose to stir up buzz for a potential unveiling at the North American International Auto Show next month? Who knows, but there's no doubt, the images are compelling and as "firebirdfan" pointed out, if there's any validity to these photos, the C8 "ZERV" looks like it will be one hell of a Corvette!