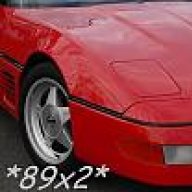 Joined

Feb 18, 2002
Messages

10,357
Location
As some may recall, there was much discussion on filter elements when developing the Callaway Honker intakes for the C5 and C6 Corvettes. In the end, the Green filters were built to Callaway Cars' specifications however, being in such high demand, it seems that the Old Lyme Engineers have now specified their own K&N brand filter for Honker useage.
K&N, a premium filter brand with over three decades of high performance accolades, is now factory fit into each Honker kit effective immediately.
I thought this info might be of interest to those who have Honkers, or may be considering them soon -
Read on for more info:
Callaway Cars said:

Beginning today, Callaway Honker C6 Air induction Systems are being shipped with a new and improved air filter element.

Manufactured to Callaway specifications by K&N Filters, the new filter element includes several design and material improvements.

1) The rubber perimeter seal is manufactured with a lower durometer, more compliant polymer and incorporates a new, unique cross-section configuration. In addition, this seal material "wicks" into the filter material much less than previous filters, providing maximum possible filtration area. The new seal material is also more homogeneous with much less void (bubbles) than the old seal.

2) The K&N filtration material used in the new Honker element has an improved particle filtration capability compared to the previously-used material, while retaining the flow rate of the earlier design. (In other words, the K&N stops more dirt but isn't more air-restrictive.)

3) A new filtration material manufacturing process greatly improves filter-to-filter filtration consistency. "Overall efficiency rating" is consistently between 97 and 99%, per SAE (Society of Automotive Engineers) j726 test procedure.

4) A genuine advantage for our dealer customers: we've been assured that K&N filter elements will always be readily available and will be shipped when promised, so we'll have Honkers in stock whenever an order is received.

The new filter elements are pre-oiled and poly-bagged within the Honker packaging, ready for drop-in installation. They're washable and reusable with K&N Cleaner and Recharging Oil, which can be found just about anywhere on the planet.

Replacement K&N filter elements are also available from Callaway for installation in earlier Honkers.
Part Number: 203.50.2531
Product Name: Filter Element, Honker C5/C6
Price: $85.00 (still)

We're proud to be associated with K&N Filters. K&N is the inventor of the cotton gauze air filter technology for automotive applications. Founded over 35 years ago, the company has become the leading brand of performance filters. Adding the K&N filter element to our Honker has made a good thing even better.