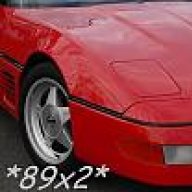 Joined

Feb 18, 2002
Messages

10,357
Location
...today I was sitting in my office thinking (daydreaming) about the upcoming Callaway shows in Bowling Green, KY in May and the Callaway Reunion @ Carlisle in August and was reminded of all the great stuff I have come across - esp. at Carlisle :cool
Of course the cars such as the Sledgehammer, Frieda, the LM Street cars incl. the TT LT5 version, all the B2K's and SNAT's, the C12 and Power Group cars, and on & on...
But aside from the cool cars, it really has been the great folks I have met there on the fairgrounds over the years. The owners and enthusiasts of these machines who have brought their cars out, or stopped by to see what we we had brung to the event.

Love the FOOD at Carlisle, esp. the hot sausages w/ grilled onions :cool and the strawberry smoothies -
August cannot come soon enough for me!
Fellow owners & enthusiasts, I ask you this - what are some of your Callaway / Carlisle memories from the years past??
Happy daydreaming