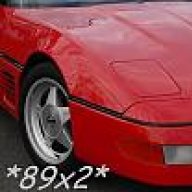 Joined

Feb 18, 2002
Messages

10,357
Location
Folks, This was passed along today to me, and it may be of interest to those w/ the 1990-1991 LOF KOOLOF Front glass.
If interested, this MUST be done by Feb. 9th (This Friday).
Email Kurt White at: knjw1@aol.com
-or-
Contact Information

White Racing Products
11204 Cavalier Place
Tampa, FL. 33626

Phone: (813)-891-1817
Tel: (813)-855-1625​
Subject: [ZR1] ALL: ZR-1 Windshields Group Buy Now Available
>
>
> As many of you know, the ZR-1 windshield has been a problem on the
> car ever since day 1. Technology is a wonderful thing and always
> marches on, it is with this in mind & the desperate need for a
> replacement windshield for the ZR-1 that I have been seeking a
> manufacturer for the past few months, a direct replacement to the
> ZR-1 Windshield.
>
> The company I am using manufactures glass for all the exotic car
> companies, as well as Porsche - Ferrari - Lamborghini etc, there
> quality is second to none. They are going to reproduce both 90-92 MY
> & 93-95 MY glasses with the 4"-10" radar cut-out & the 4"-5" radar
> cut-out
>
> This will be a one time production run, all pieces will be produced
> in one batch & will be identical to the original, with one exception.

> The name "LOF"
> will NOT be there, this is a trade mark logo & fact is LOF will never

> in a month of Sundays give permission to use it. Every other aspect
> will be the same.
>
> The glass will have the KOOL OFF Logo, as well as the KOOL OFF shade
> applied, this is a "sheet" that is applied to the "inside" of the
> glass during manufactures process & in the past 15 + years, they have

> perfected this KOOL OFF to a fine art. You will never have to replace

> a windshield for delaminating again. You'll will not see bubbles or
> blisters in the glass & it will remain perfect.The warranty will
> remain in affect for as long as the original purchaser owns the car.
>
> The price to purchase either model is $999.99 + Shipping from Fl to
> wherever you are anywhere in the world.
> This is the price for 1 or 100 , however if you order 2 glasses, I
> will only charge one shipping fee, if you have a buddy that wants one

> I can ship together and you can split the costs for shipping. I
> suspect shipping from Tampa to CA. will be around $300.00 with
> insurance and packaging. If you are local in Fl. you can collect & not

> pay this, I will have to charge anyone in FL. 7% sales tax, all other

> customers pay no sales tax.
>
> Please respond with the year ZR-1 you have and the version windshield

> you need i.e. LARGE - SMALL cut-out, also advise qty required, your
> name & address and I can create a file to keep track of everyone's
> orders. Some of you may be getting this email twice today, i had a
> list of all those that showed an interest a couple years back & i
> emailed all of you 1st, as there are also many new owners now, i
> think it's a good idea to post to the net again.
>
> The order will be placed with the Manufacturer on Friday Feb 9th,
> payment will be required AFTER goods have been delivered to me in
> Tampa. I will NOT require any deposit or monies up front, you pay me
> when I get ready to ship to you, can't be farer than that! You can
> pay by credit card - check - pay pal.
> or if you collect, cash always works too. The delivery date will be
> middle to end of April.
>
> Just to re-cap, these are going be 99% exact as original without the
> LOF Logo with the KOOL OFF tint and with either LARGE - SMALL cutout,

> all other markings and inscriptions will be applied by the
> manufacturer. When installed, these will be as close to perfect as
> possible. The tint is BLUE, there are no BRONZE ones been produced,
> only BLUE.
>
> Thanks for looking & if this message offends anyone as spam, then
> accept my apologies, I just emailed everyone here as at some point
> you had specified an interest in the ZR-1 windshield.
>
> Regards,
>
> Kurt White.