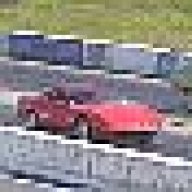 Joined

Apr 7, 2003
Messages

315
Location
Corvette

1996 LT4 Supercharged and 2002 Z06 656 whp
A few weeks ago I saw these in e-bay:
corvette callaway supernatural cam & springs
350 callaway nos supernatural cam & springs
This auction is for a nos Callaway cam, comp valve springs and lube. Made for a Callaway Supernatural Corvette. The SN's were a high performance car built by callaway cars in Conecticut in the 90's. This cam fits LT1 and LT4 roler cam 350 engines and works best with 5 speed or stall equiped cars. With free flowing exhaust and a computer chip expect 50+ HP. Valve springs can be installed without removing the heads. Cam spects-IN Lift .486 - EX Lift .503 - IN Duration at .050 224 degrees - EX duration at .050 230 degrees. Good luck on bidding for a supernaturally powerful cam.
Now after some work it is in my 94 LT1
but did not get more info from the seller. It works great! But I would like more info. First I thought it was a used one from a Callaway Vette; but it was new, never used but like it was in storage for some time.
Anyway.Does anybody knows who used to make the Callaway cams? If it is a copy are those the right specifications of a Callaway Cam?
It has the following engraving: 10-38-97
M00150AL
109516
What it means?
I will really appreciate any help or coment about these matter