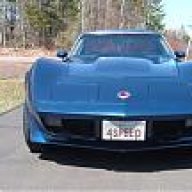 Joined

Sep 13, 2005
Messages

307
Location
Corvette

1974 Metalic Blue L-48 Coupe 4 speed
Hi,
I'm thinking of buying the Extreme energy 268 Hydrolic cam kit from COMP CAM.
They say it's the biggest cam for stock engine.
Is there anyone that already has that cam? I would like to know if it sounds alot better than the stock cam. How much horse power or torque did you gain. Did you felt a big difference on performance or barely noticed the difference?
If it's sounds good, please send me a sound clip or video so I can ear it if you happen to have one
my e-mail is
tepot@nbnet.nb.ca
the specs of my engine is as follow:
L-48 stock engine 195 HP and 275 foot pounds torque
The 2 bolt main block as been replaced by a 4 bolt main
Intake manifold is now an Edlebrock performer
I run on headers true dual exaust to flowmasters 40's mufflers no cat.
4 speed manual transmission with I think 3.08's rear end gear ratio
I'm also thinking of changing gear ratio to 3.55's.
I might have more HP and Torque now with all those modifications but never got it on the Dyno. I will also change the point system to electronic. I might run better after that too.
Can anyone answer a few of my quesions? does anyone has the same setup?
Thanks in advanced
Daniel