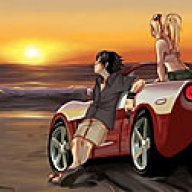 Site Administrator
Staff member
Administrator
Joined

Sep 16, 2000
Messages

13,888
Location
Corvette

1990 Corvette ZR-1
2009 Chevrolet Corvette ZR1
Chevrolet enters supercar arena with its killer 'Vette
Arv Voss, San Francisco Chronicle
Friday, November 7, 2008
When Chevrolet launched the first Corvette as a 1953 model two-seat ragtop roadster, it was billed as a sports car and was powered by an in-line six-cylinder motor dubbed "Blue Flame," which mated to a two-speed automatic transmission that metered power to the rear wheels. In reality, though exceptionally sporty and appealing in appearance, it was certainly no sports car by today's definition, but rather was essentially a very stylish boulevard cruiser.
The Corvette nameplate has progressed steadily over the years, continuing to improve with each generation. In fact, each year of late, the Corvette has made tremendous strides in performance, technology and creature comforts with each iteration seeming to reach the pinnacle in all categories.
Enter the ZR1 for 2009. How did it come to be? Purportedly, back in 2001, when the Corvette development team reported the proposed $70,000 price for the coming 505 horsepower ZO6 'Vette, GM top gun Rick Wagoner posed the rhetorical question, "What could you produce for $100,000?" Be careful what you ask for around a bunch of performance-oriented engineers. Three years following the ZO6's debut, we have lift-off of the ZR1. Imagine a state-of-the-art Corvette that boasts 638 horsepower and 604 pound-feet of torque from its 6.2-liter LS9, OHV 16-valve, supercharged, intercooled V8 engine with sequential fuel injection. The 3,350 pound "super 'Vette" is capable of ripping from 0 to 60 mph in a scant 3.4 seconds, and boasts a top speed of 205 in stock tune. The engine is built on the "one man/one engine" practice employed by several other high-performance marques. The car moves from 0 to 100 mph in seven seconds flat and can tick off the quarter mile in 11.3 seconds, reaching 131 mph. The ZR1 lapped Germany's legendary Nurburgring in an incredible seven minutes and 26 seconds. Hard to fathom? The proof is in the driving.
I was privileged to be among a small group of auto journalists that were invited to pilot the new 2009 ZR1 at GM's Milford Proving Ground Road Course - a track configured to simulate the challenging twists, turns and elevation changes of some of the best road circuits on the planet.
After being given some orientation laps of the course in a Chevy Tahoe Hybrid - not even remotely closely approximating the ZR1's preferred line around the fast three-mile course, which consists of several elevation changes, blind spots and off-camber turns. The trickier spots were highlighted during our orientation, and we were returned to the staging area where donning helmets was necessary before tackling the track on our own. We were warned to pre-cinch the belt tightly prior to launching the wily beast onto the course, with spotters placed strategically around at potential trouble points.Turn on the ignition by pressing the start button, and the engine emits a throaty resonance at idle. Take off and accelerate in a spirited manner to roughly 3000 rpm and the exhaust note takes on a totally different character - an authoritative, higher pitched "Braap" which instantly brings a smile to one's face. Okay, enough enjoyment of the audible pleasures of the ZR1, it's time to set up for the first sweeping turn, which is followed rapidly by one of those aforementioned reverse camber, decreasing radius turns, then a blind hill. Soon, the high-banked oval-type turn called the "toilet bowl" appears, seemingly out of nowhere (fortunately, cones were set out, guiding us through a chicane to the lower edge and off the high-speed bank to keep the less-experienced out of harm's way). Oops, here comes another blind direction hill - and on and on and on it went until the final back straight where it was possible to reach a top speed of 105 to 112 mph before backing off to return to the staging area for another lap. I have to be honest; it doesn't get much better than that.
With the first casual glance, the ZR1 doesn't appear radically different from its Corvette siblings, but upon closer inspection many distinguishing features become apparent. One of the first major clues is the transparent engine view port set into the carbon fiber hood. Another tip-off is the high-tech, 20-spoke staggered wheels (19-inch, front; 20-inch, rear), shod with specially developed Michelin Pilot Sport PS2 ZP tires. The ZP stands for zero pressure, as these are run-flat tires that uniquely provide superior cornering grip and lateral acceleration, along with the highest combined dry and wet handling properties, road noise reduction and extended tread life without sacrificing ride comfort. There are ZR1-specific side vents and carbon fiber front fenders and top panel. The ZR1 is not available in a convertible configuration, only as a fixed-roof, two-passenger hatchback.
The ZR1 is still first and foremost a Corvette, but it is special in virtually every facet of its construction, utilizing exotic materials in an attractive and value-laden package. Yes, I know that $105,000 is a lot of spare change, but the content of the ZR1 speaks to its net worth.
The six-speed manual, close ratio, race-hardened manual gearbox is positive and precise, managing power to the massive rear wheels. Carbon ceramic brakes are standard fare on the ZR1, reining it in short order, while other exotic supercars charge a premium for such superior equipment.
First year production for the ZR1 is planned at a limited 2,000.
Summary
The 2009 ZR1 Corvette is an engineering marvel that presents itself as exemplary "eye-candy," but excels at every level of the performance spectrum. Driving it at its full potential is beyond the capability of most mere mortals. It is virtually a street-legal, race-ready machine that requires a honed skill level to tame. It is, after all, the most powerful and fastest vehicle to be produced thus far by General Motors.
Not surprisingly, with all of the engineering refinements that have gone into the ZR1, the interior has also benefited from several significant enhancements that border now on a luxury level. This Corvette is anything but Spartan in it appointments. The 2009 ZR1 enters the exotic car arena as an all-American supercar, capable of competing with the best.