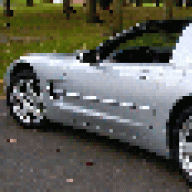 Joined

Oct 21, 2004
Messages

202
Location
Corvette

1998 Sebring Silver Coupe
Hi everyone. I know this question is riddled with variables, but from experience, what would you say is the longevity of the C5 clutch?
With that stated, how about some loose parameters:
1) OEM Clutch Ass'y
2) No 'abuse', now I realize that is a vague term we all define differently
, but not driving it like I'm going to Church, nor like a 16 year old either.
Part two:
When it does require repair / replacement, would you:
1) replace with OEM
2) replace with an after-market, heavy duty, racing, etc
Part three:
1) $$?
I am not in need of one now, but as I formulate a long term strategy for maintenance, mods, tires ($$) and budget, I thought it might be helpful to get a general idea.

Thanks,
Joe