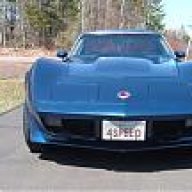 Joined

Sep 13, 2005
Messages

307
Location
Corvette

1974 Metalic Blue L-48 Coupe 4 speed
Hi,
I was cleaning and sanding the interior part of my cole induction hood today and when I was taking the hood brackets and cole induction cover, I've found out that the cole induction has a little motor that opens the vent and closes the vent. The only thing I can't understand is " How the Hell it works? " It's not using vaccum. It's connected to an electrical wire. So what tells the cole induction to open if it's not vaccum. is there a switch somewhere.
Right now I don't even know if that thing still works. I'm not using the stock air cleaner so it's not gonna work like it's supposed to anyways. I'm thinking mabee remove the vent doors to keep it open at all time and put the cover back in place. that way it will always bring cold air inside.
I don't drive the car in winter time so why those air vent doors should be closed anyways?
Can anyone explains how it works?
I got a picture here of the cole induction system.
http://www.4speed.greatermonctoncorvetteclub.com/images/coleinduction1.jpg
and here it is with the air vents open
Here a picture of before I've started the hood and another one with the hood in progress of sanding. I've removed all those rusted clips for the insulation. I will not put them back. Don't need any insulation here in Canada. ahahah It's just not warm enouph to cause any damage.