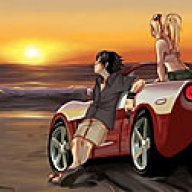 Site Administrator
Staff member
Administrator
Joined

Sep 16, 2000
Messages

13,790
Location
Corvette

1990 Corvette ZR-1
Collectibles: Corvettes shine in accuracy
Thursday, July 12, 2007
By Don Hammonds, Pittsburgh Post-Gazette
Corvette models are always a favorite of our readers. And this week, I took a look at four of the best from the Franklin Mint.
All are 1:24 models with highly detailed interiors, beautifully done V-8 engines, and opening doors and hoods. Prices range between $90 and $135.
Let's start with a 1:24 1963 Corvette Sting Ray fastback coupe, done in the classic silver finish. This car is so authentic that it's done in fiberglass, the material of choice for real Corvettes, not the metal used for most Corvette models.
The interior has well-done, legible gauges in black and white, and depicts a manual transmission equipped car. The red seats are so authentic you can see not only the upholstery pattern but also the wrinkles and creases that would come from use. The engine is the fuel injected V-8 with all of the usual plumbing, trim and labels.
Speaking of labels, I was pleased to see two stickers on the floor underneath the back window for tire changing instructions. That's a detail I haven't seen on other 1963 Vette models.
The only suspected flaw I saw was that the car sits a bit too high upon its whitewall tires, and adjusting them just a smidge would result in a totally accurate presentation.
The 1971 yellow Sting Ray convertible is one of the mint's older models, but that's not to say that it isn't every bit as nice. This one is an L-88-engined car with black interior and wood trim on the doors and console of the car.
The back deck opens up behind the seats, but the seats don't fold forward as they do with some of the newer Franklin mint items. I also wondered if the emblem on the rear deck was a bit smaller than it should be for complete accuracy.
The third model is a real beauty -- a 1971 topped Corvette done in a beautiful gold finish. This is a lovely piece with folding seats, fabric belts and matching gold carpets. This model is a very rare LS6-engine equipped Corvette, and once again you get the usual wiring and hoses included along with the appropriate air cleaner, valve covers and label-trimmed accessories.
But my favorite was the bright red-orange 1970 Corvette convertible with its shark tail rear end, deeply glossy red-orange paint and dual exhausts. It is a limited edition model, with only 5,000 pieces planned.
All of these models have been highly authenticated by the Franklin Mint.
Extensive research went into each one, with hundreds of pictures taken of every angle of these cars to ensure accuracy. They also have been chosen and designed with the help of Corvette clubs across the country.
The selection of options and choice of colors also is discussed exhaustively at the Franklin Mint before the model is given approval.
The models also have been sent on to General Motors to make sure that they accurately portray the cars they are replicating.
For more information, go to
FranklinMint.com
.
(Don Hammonds can be reached at dhammonds@post-gazette.com or 412-263-1538.)