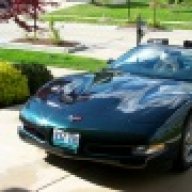 Joined

May 3, 2004
Messages

175
Location
Corvette

2000 Dark Bowling Green Metalic Convertable
After reading many posts discussing colors, I looked at production numbers, by color, for the C5 through 2003 (didn't have the data for 2004) and found some interesting facts. The most sold color is Torch Red (46,113) followed closely by Black (41,729). Third place at only half as much is Light Pewter Metalic (20,677). Only Black and Torch Red were offered over all seven years. Artic White (9422) turned into Speedway White (4907) in 2001. Can anyone tell the difference?

Fewest sold colors begins with Platinum Purple Metalic (1), which was a special presentation car for a Bowling Green Employee. Next is Aztec Gold (15) which was only offered in 1998. Third lowest is Fairway Green Matalic (378) which was only offered in 1997 and 1998. Close at fourth is Medium Purple Pearl Metalic (381) which was only offered in 1998. Next low numbers are:

Pace Car Purple (1163)
Light Carmin Red Metalic (1948)
Dark Bowling Green Metalic (2582)
Nassau Blue Metalic (3275)

Question: if all else is equal, does rarity of color add anything to a cars resale value?

Another Question: Does anyone here have a car that is Platinum Purple Metalic, Aztec Gold, Fairway Green Metalic or Medium Purple Metalic?