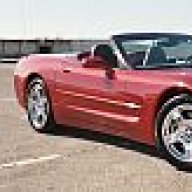 Joined

Jun 23, 2004
Messages

6,662
Location
Corvette

2003 AE Convertible, 1998 LCRM Convertible
I was driving to an appointment with my hand therapist today, and noticed an annoying squeak which I have just recently begun to hear. I reached over my head and pressed the headliner and top frame in several spots to see if it would eliminate the squeaking.
It eliminated it alright - when the back glass fell out of the top. :eek
I'm talking catastrophic failure here! The only length of the glass still sealed to the top is about 2/3 across the bottom. It would have fallen into the car completely if not for the 2 elastic straps at top of the glass.
I went to Headliners Plus in Gulfport and he's replacing the top next week. Bye-bye bucks! :cry Going to replace it with a Robbins top. It's more costly than the EZ Top but has a better warranty and fit. Since I intend to keep this Vette for a few more years, I figured it is worth less possibility of ever having to replace again while I own her.
The top had to be replaced in my C4 at ~8 years old too. Do other members experience that timeframe?
Oh well, some photos.

Jane Ann