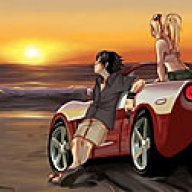 Site Administrator
Staff member
Administrator
Joined

Sep 16, 2000
Messages

13,915
Location
Corvette

1990 Corvette ZR-1
http://www.sfgate.com/cgi-bin/article.cgi?f=/c/a/2006/02/24/MOTORCORVETTE.TMP&type=autos
This isn't just a car
Michael Taylor, Chronicle Staff Writer
Friday, February 24, 2006
General Motors, all is forgiven.
All those calls for firing Rick Wagoner, your pilloried CEO? Fergeddaboutit. File for bankruptcy? Nonsense.
You are forgiven all the ugly junk you have foisted on the car-buying public for decades -- Pontiac Aztek comes clunking to mind, say, or go back more than 25 years to the ever-disintegrating diesel engines you put in Oldsmobiles and Chevys. Not to mention a whole string of utterly forgettable sedans, coupes and vans that simply blended in their blandness into the roadbed of American autos. Yes, that lengthy litany of aesthetic and mechanical failures has been absolved. Gone. Finito.
Why?
The 2006 Corvette Z06. The one with the 505-horsepower engine. The one with the six-speed stick shift. The one that, well, has only two purposes in life -- go fast and go pretty. Hey, GM, listen up. Clone this car. Give it four seats. Make an SUV out of it.
We told GM we wanted to take the Corvette up to Sonoma's Infineon Raceway and put it through its paces, but the General said no.
Instead, we drove it up one side of the Transamerica Pyramid and down the other. Handled fine, except for a few balance problems at the top. Oh, and the huge six-piston front brakes almost gave out as the bright yellow coupe -- did we mention it is Ticket-Me-Yellow paint, a $750 extra? -- slid to the bottom of the building.
OK, I know; to paraphrase Alfred Hitchcock, it's only a car. But to anybody who has a modicum of affection for the automobile and cares little about practicality, this is a Car.
Back in the world of reality, let's face the fact that the Corvette is, in essence, a two-passenger sports car -- really a sports touring car -- that has generally competed, in a loose way, with cars from Porsche, BMW, Mercedes-Benz, Nissan (hotted-up Z cars), Acura (think NSX) and the like. They're all cars that get you from here to there with a certain sense of élan, a spirit, an idea that maybe corners are even a thrilling challenge rather than simply a challenge. It's fun.
The Corvette, of course, like a lot of cars, has had its shares of ups and downs ever since it bowed in 1953. The first years' models were slow, until they stuffed the 265-cubic-inch V8 engine into it in 1955. For the record, until the Z06 came along, I had driven only two Corvettes for any length of time. The first was a 1962, maroon with black interior, 340-horsepower engine with solid lifters that went clickety-clack, quite musically. (See what memory dredges up: what's important.) It was very fast, and it looked great. The second was a friend's 1966 Stingray convertible, which I drove last year. Fine-looking collector car. Awful to drive -- steering wheel too close, steered like a truck, bounced around corners like a hung over one-legged Pontiac Catalina on a particularly bad day. It still had that throaty small-block Chevy roar when you stomped on it, but so does a dragster on its last day at the strip.
Fade in to a couple of weeks ago, when we had the 2006 Z06 for a week.
Here's what it's like: when you approach the car, it senses the remote control key fob and automatically unlocks the door. Open the door and the window cracks down slightly so you don't have that air compression feeling when you shut the door. Put the key fob in the cup holders. That's right. You don't need it. Stab in the clutch, push a button and those 505 horses suddenly wake up and burble that sweet Chevy sound out the two sets of tailpipes.
The dashboard, like those on most of today's pricey machinery, goes through its whiz-bang of flashing lights and needles flopping all over the place, then settles down. At one point, it read "competition driving mode," then simply advertised, "Corvette ... by Chevrolet."
The car is comfortable, the power seats are generous in their fit, there's 22 cubic feet of cargo space (more than most sedan trunks, but open to plain view of the neighborhood thief), the sound system is relatively simple, and there's a heads-up display of rpm, speedometer and cornering G-forces that eerily illuminates in green light at the bottom of the windshield.
There's always the fear that something like this, with its overly advertised power, is going to be a monster to drive -- grabby clutch, gear pattern all over the map. Not with the Z06. Driving around town, the car was pretty docile until, after about 5 miles of stop-and-go, the one-two shift started getting a little stiff.
The first freeway ramp is where you find out what all the noise is about. Gaily rounding a right-hand corner onto a ramp leading into Highway 24 in Oakland, I thought, let's floor it, but, instead, pressed down about an inch. The thing literally leaped forward -- bang, it had gone from about 35 to 60 mph in a couple of seconds. It's instant power, and it doesn't come gradually.
Anywhere north of about 3,000 rpm and this engine is sitting there, saying, open it up. One second you're cruising. The next, your coffee is in your lap.
On the freeway, you can get most places in the Bay Area in third, fourth or fifth gear and the junkie-like temptation is, as they say, to see what she'll do. One hundred and ninety-eight mph, says Chevrolet. Driving this car is an exercise in caution -- one's eye is constantly on the rearview mirror, looking out for the gendarmes.
Speaking of which, we took the Corvette over to the San Francisco office of the California Highway Patrol, where, it turned out, the CHP captain in charge, Ryan Okashima, is a complete Corvette freak. He had a 1968 model and when he saw the yellow beast that had just crept into his parking lot, he beamed and asked brightly if he could have a look.
Rattling off statistics about the car, he walked over to the Z06, got into the driver's seat and gave it the kind of scrutiny that you only get from a seasoned cop who is also a car buff.
"It's a world-class car," he said. "It'll do zero to 60 in under four seconds. I'd love to have it as a patrol car."
That probably won't happen, given the state's budget, but when you think about it, this car is not a bad deal. Car and Driver magazine, in a comparison with the Dodge Viper SRT10, gave the edge to the Corvette, calling it "an unbelievable performance bargain."
Consider, as the Web site

www.corvetteactioncenter.com

did, how the Z06 stacks up, pricewise, to the competition in the rarefied neighborhood of plus-or-minus 500-horsepower beasts. The hottest Z06 (Chevy makes a milder 400-horsepower version), at a base price of $65,000, is more than $20,000 cheaper than the Viper. The other cars in that test -- Ferrari, Ford GT and Lamborghini -- were all far up the $100,000-plus ladder.
Your choice. At the risk of sounding vague, the Z06 has whatever it is that you need in your life, if what you need is, well, to be noticed and, incidentally, have a bit of fun. In whatever way you take your fun.