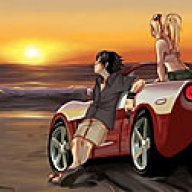 Site Administrator
Staff member
Administrator
Joined

Sep 16, 2000
Messages

13,790
Location
Corvette

1990 Corvette ZR-1
Corvette C7.R to make public debut at 'Roar Before the 24′ ahead of TUDOR Championship
Corvette Racing
Press Release

DETROIT (Dec. 31, 2013)
– A new beginning for Corvette Racing is on the horizon with a new car set to debut in a new season for a new championship. The Roar Before the 24 at Daytona International Speedway will be the site of first public laps for the Chevrolet Corvette C7.R. The Jan. 3-5 test is a dress rehearsal for the 52nd Rolex 24 At Daytona – the first race for the TUDOR United SportsCar Championship.
The two Corvettes will compete in the TUDOR Championship's GT Le Mans class for the full season. After winning back-to-back driver's, team and manufacturer's titles in the American Le Mans Series' GT category with the venerable Corvette C6.R, the C7.R has big shoes – errr, tires – to fill. The C6.R won 55 races around the world: four at the 24 Hours of Le Mans and 51 in the American Le Mans Series.
"It will be fantastic to finally see the Chevrolet Corvette C7.R on the track alongside our competition in the TUDOR United SportsCar Championship," said Mark Kent, Director of Chevrolet Racing. "This should be another season of the extremely competitive GT racing that we have become accustomed to seeing. The C7.R is the result of a massive amount of teamwork between our Corvette design team at Chevrolet, Pratt & Miller Engineering and GM's Powertrain group. We hope their collective efforts will provide Corvette Racing a successful debut season with the C7.R."
The faces behind the wheel remain largely intact from a year ago. Antonio Garcia and Jan Magnussen – ALMS GT champions with three victories in 2013 – will team again in the No. 3 Chevrolet Corvette. Tommy Milner and Oliver Gavin – the 2012 ALMS GT champions – are back together in the No. 4 car winning twice last season. For both the Rolex 24 and Sebring 12 Hours, Ryan Briscoe will join the No. 3 lineup with Robin Liddell in the No. 4 Corvette.
With the full unveil of the Corvette C7.R set for Jan. 13 at the North American International Auto Show in Detroit, the two race cars will run in camouflage livery for the three-day test. Aside from private testing of the C7.R earlier this year, the Roar will mark Corvette Racing's first time at Daytona International Speedway since the team won overall at the 2001 Rolex 24. Ron Fellows, Johnny O'Connell, Franck Freon and Chris Kneifel drove the victorious Corvette C5-R.
The Rolex 24 also was the site of Corvette Racing's debut on Jan. 31, 1999. Since that first race, the team has competed in 150 other events around the globe with 90 victories worldwide, 10 team and manufacturer championships in the ALMS and seven victories at the Le Mans 24 Hours.
The TUDOR Championship is the result of a merger between the ALMS and GRAND-AM's Rolex Sports Car Series. Corvette Racing will compete in 11 races around North America plus the 24 Hours of Le Mans.
ANTONIO GARCIA, NO. 3 CHEVROLET CORVETTE C7.R
"It's definitely a step forward and in the right direction on everything we were probably lacking from last year. We still need to get used to knowing how the car behaves. It's definitely an important time now to learn every single aspect of the car. Now it's time to really try different things on our side – driving style and everything else to see if we need to change or adapt a few things to be more efficient in this car. The good thing is that we have been able to improve the whole package. It feels more or less like driving the C6.R but one step above on every single thing. Now we may be in the same spots as the C6 but have to improve on other points. Now we need to improve so we can be better in every area. The transition has been very good. Whatever we were working on and were limited on with the C6, we've been able to produce a new car that will launch us forward."
(Participating at the Roar)
"It's important to know where everyone stands. In the end, these are all different cars and they behave differently. We need to know where we are strong and where we are lacking against the competition. The Roar will be the first step for us to learn where we are and where we stand after a short offseason. The Daytona 24 Hours will be the real test to know where everyone stands."
JAN MAGNUSSEN, NO. 3 CHEVROLET CORVETTE C7.R
"This is an evolution and next step for Corvette Racing. Everything has been improved on the car. So far we've really felt a lot of the improvements – on the engine side, in the chassis and aerodynamics. It's a good step forward. The old car was really suffering at the end. We won some races but it wasn't for being the fastest car. To go into a 24-hour race as the first for the car will be a difficult situation for us. But I'm very confident that if anyone can do it, we can."
(What's new)
"It's all the small things that have been improved… and there are a lot of small things! We've all driven the car now and everyone has the same sort of feedback: that it's a little bit easier to drive, it has less movement and you can feel the stiffer chassis. We are still early with the new direct injection engine but are making progress there also. We haven't really hit on something where we think, 'Eh, this isn't going to work.' Everything is going in the right direction. We will see what the competition has for us when we get to Daytona. But at the very least, we will go there with a better car than we had last year."
RYAN BRISCOE, NO. 3 CHEVROLET CORVETTE C7.R
"I haven't driven the car yet so I'm really looking forward to getting in there and getting a feel for what it will be like. The car is extremely advanced. From talking to the other drivers, it sounds like they have made gains from last year's car to the new C7.R. I really want to get out there and get comfortable in the car. I've got two amazing teammates in Antonio and Jan. I want to do my part – be smooth, consistent and fast when I need to be. Hopefully I can be the guy they need me to be to win these long races."
(Providing input)
"I fully expect there to be a lot of discussion on things like setup direction and things that the team may not be used to with the old car. We will have to be prepared to adjust and make changes – maybe more than would have typically been done last year. Having said that, having input from someone like myself from the outside and not necessarily based on last year's car could be helpful. It sounds like everyone has been pretty excited so far with the first on-track sessions. We hope it keeps going smoothly and we get plenty of track time with it."
OLIVER GAVIN, NO. 4 CHEVROLET CORVETTE C7.R
"As a team, 2013 was a very successful season. Corvette Racing and Chevrolet won every championship we possibly could. Now the focus has completely shifted to 2014 and the Corvette C7.R. It is something the team has had a focus on for most of the last year. The first time I sat in the car at Pratt & Miller was seven months ago, and it's been exciting to have to gone through the process – from a base chassis and the car being built up to finally seeing it testing on the race track. I've been involved with that pretty much every step of the way. It's been great to be a part of that and see the beginning of another fantastic season in the world of Corvette Racing."
(2014 outlook)
"This certainly looks to be one of the most exciting years of racing I can remember. We all are looking forward to getting on track and seeing where we stack up to our competition. Developing the new Corvette C7.R has been a fantastic experience although we really are still in the early days. The results have been encouraging as the car is an upgrade in many key area and will be important given what we will face this year in the TUDOR Championship and at Le Mans."
TOMMY MILNER, NO. 4 CHEVROLET CORVETTE C7.R
"The first impressions have been really good. I felt really comfortable right away with the car. Initially it was very well connected and well-balanced. It gave me a lot of confidence. Right away, that was a nice feeling. You can tell it's a Corvette. It still feels similar in some ways (to the C6.R) but you can tell it's the next generation of car. It does certain things better than the last generation."
(Team continuity)
"Having the same fundamental people that helped build the C6.R GT car and now have done the C7.R is evident. In my first test, I did an hour-and-a-half in the car with zero issues and that allowed me to get used to things. I didn't have to think about new teammates, a new engineer… that has been typical for me in my racing career. I'd be with a team for two or three years and go elsewhere for other opportunities. I can definitely see the differences that (continuity) brings and that helps me get up to speed with the program quicker. I was ready to start making changes to the car to help the balance after 10 laps. That's a testament to the team at Corvette Racing and Pratt & Miller for building a car that is much better in many areas."
ROBIN LIDDELL, NO. 4 CHEVROLET CORVETTE C7.R
"We're all looking very much forward to the first two endurance races. Daytona is a track that I know very well. I've raced there every year for the last 10 years plus have done loads of testing. We have all the sum parts. I don't feel any kind of undue pressure to do well. We have all the tools we need to do it. The team has been very good in helping me to integrate myself in and acclimate myself to the car. All the pieces are there to do a fantastic job and achieve great results."
(His initial test)
"Testing the car for the first time was quite challenging. With the car being new and not being rubbed on very hard, it was a great test and shakedown. At the end of the day, there is a little bit of work on balance and handling. The good news is that the things I was feeling and were sort of finding a little tricky were some of the same things that Olly and Tommy were seeing. So we have a little bit of work to do but that's to be expected because the car is completely new."
DOUG FEHAN, CORVETTE RACING PROGRAM MANAGER
"The 2014 season is one of the most highly anticipated moments in the storied history of Corvette Racing. Building and testing a new car in such a compressed time frame has been a monumental task. But challenge is what fuels the efforts from the groups at Chevrolet, Pratt & Miller and GM Powertrain. As Jan. 25 approaches, the Corvette C7.R stands ready to write yet another chapter in Chevrolet racing history. Debuting the C7.R in Daytona is fitting as it comes precisely 15 years after Corvette Racing's debut at the Rolex 24. We are truly excited to return and start the TUDOR United SportsCar Championship in spectacular fashion."
Roar Before the 24 (all times ET)
Friday, Jan. 3
TUDOR Championship, Practice 1: 10:15 a.m.-noon
TUDOR Championship, Practice 2: 2:45-5:15 p.m.
Saturday, Jan. 4
TUDOR Championship, Practice 3: 9-10:45 a.m.
TUDOR Championship, Practice 4: 1-2:30 p.m.
TUDOR Championship, Practice 5: 4-5 p.m.
TUDOR Championship, Practice 6: 6:30-8 p.m.
Sunday, Jan. 5
TUDOR Championship, Practice 7: 10:15 a.m.-noon
TUDOR Championship, Practice 8: 2:30-3:30 p.m.