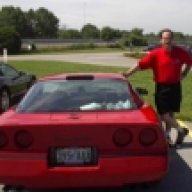 Joined

Oct 30, 2001
Messages

2,273
Location
Corvette

1986 Bright Red Coupe
So I've been having problems getting into reverse without grinding and shifting also seemed harder than it should have been. As I was reading through Ken's excellent collection of 4+3 articles, I saw the one that talked about the reverse-lockout rod and how you could order a replacement from Corvette Clinic in Florida. I pulled the gearshift stick apart and looked at the rod. VERY worn down one side. So I ordered one.
Apparently he either doesn't get a lot of call for these, or they're mostly for 84-85 MY. Mine arrived without the groove for the OD-enable shaft. Called them, and they expressed a small bit of surprise but were quite willing to fix it. Sent them mine as a template and theirs for repair, got them back by next-day.
Installation is about a 20 minute careful job, and maybe a 1.5 on a scale of 10.
So. $50 for a new rod and 'handle', plus shipping. Is it worth it? I'd say yes. Shifting, especially downshifting, is much smoother, though 1-2 upshift still meets resistance (not as much as before). Reverse engages smoothly and without a sound. That lockout rod must rub against part of the transmission and get 'caught' when it's as worn as mine was.
Anyway, they can be reached at 407.323.7804 during normal east-coast business hours (they're in central Florida). They have a website,
www.corvetteclinicinc.com,
but they're experiencing ISP problems and it goes up and down.
BTW - I drove the car today without any lockout rod at all. Not recommended... First gear is almost impossible to find; don't even think about 2-1 downshifts unless you're at a stop. There is, though, a noticeable shift improvement in all gears with a rod versus with no rod.
HTH.
[RICHR]