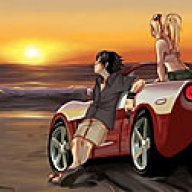 Site Administrator
Staff member
Administrator
Joined

Sep 16, 2000
Messages

13,790
Location
Corvette

1990 Corvette ZR-1
Corvette gets its place of honor
By EMILY PREVITI
epreviti@nwnewsgroup.com
Northwest Herald, McHenry County, Illinois
Sunday, June 17, 2007
MARENGO – A locally owned Corvette has earned a spot in a hall of fame dedicated to the cars.
The 1957 Aztec copper Corvette convertible owned by Marengo resident Dana Mecum was inducted into the Bloomington Gold Hall of Fame at the 35th annual Bloomington Gold Car Show at the Pheasant Run Resort in St. Charles. The Corvette-centric show ran Thursday to Sunday.
"It's priceless," Mecum said of the car's worth. "It's not for sale, so we wouldn't set a value on it."
Mecum bought the car for about $135,000 at a charity auction a few years ago after its original owner, Chip Miller, died.
For 32 years, Mecum has lived in Marengo, where he, his wife and four sons run Mecum High-Performance Auctions, 950 Greenlee St. The business runs car auctions nationwide, including the one during the Bloomington show.
Mecum, 52, said this was the first car of 50 in his private collection to make it into the hall of fame.
Besides bragging rights, Mecum also will get a lapel pin marking him as one of about 60 owners who have cars in the hall.
To earn that distinction, cars first must qualify for Bloomington's Special Collection chosen every year by a panel of Corvette enthusiasts, Mecum said. They select 25 cars from the thousands at the show based on fit with that year's theme. This year, the theme was the 1957 Corvette, and six cars were inducted.