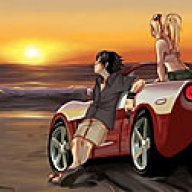 Site Administrator
Staff member
Administrator
Joined

Sep 16, 2000
Messages

13,871
Location
Corvette

1990 Corvette ZR-1
Corvette Goes from Fun to Fantastic
By : Steve Schaefer :: Auto Editor : 10/13/06


The Corvette and I are contemporaries, both hailing from the same year. But, while I keep getting older, debatably better, the Corvette is periodically reborn, and is definitely better. After a nine-year draught, I finally sampled a Corvette, one of the new sixth-generation cars. And, it was a convertible — for extra fun.
My Velocity Yellow Tint tester was not the super 505-horsepower Z06, but one could hardly consider it a slouch. With 400 horsepower from a rumbling six-liter V8, it shoots down the road very quickly. It also handles with a precision unknown to Corvettes of the early years.
You can thank high tech for most of the improvement. My test car had Magnetic Selective Ride Control, which uses special dampers to read road surfaces in a split second and make adjustments to the damping rates for an extra-controlled ride. A little dial lets you pick from Sport or Tour settings. I kept it in Tour for the most part, and found that it had plenty of firmness and stability. If you were racing the car, the Sport setting would help you at the limits.
I always dream of shifting for myself, but my tester came with a six-speed automatic. So, was I going to give it back because of one little thing? Of course not! But I found it mighty easy to just let the car do its thing without using the little steering wheel mounted paddles to manually shift the car. There's really no shame in using one of today's computer-driven automatics — they're usually smarter and faster than you are.
Official mileage figures for this powerhouse are a reasonable 17 City, 27 Highway, but my real-world numbers came to 16.6 mpg. I've seen worse from some much-less-entertaining cars.
Like a Porsche or even a VW Beetle, the Corvette is unmistakable. You can see and hear it coming. To get some perspective, I visited Kassabian Motors out in Dublin to check out some of the car's old forebears. I found everything from some nice '57s to a 2005 Z06. Some common themes include the dramatically bulging fenders, hidden headlights (not the current model or the first ones), and quad round taillamps. Inside, the split cockpit theme that started with the earliest models remains today. Of course, the materials and design execution have changed completely over the years — moving from chrome and metal to various plastics — but you can see the continuity.
This new model presents an especially rich look, with carefully grained and assembled surfaces. The 1950's and '60's cars put the dash right up in your face, and the '70's and '80's cars were brash, bold and, well, rattly.
The new 'Vette is downright pretty, clustering the full set of gauges right in front of your eyes, with the controls neatly arrayed along the center stack. I didn't hear any squeaks, rattles, buzzes or other noises, even with the top open.
It helps that today's Corvettes are built on a hydroformed steel rail backbone structure, with polymer panels mounted on a space frame. Fiberglass, the material of choice for many years, gave way to this modern method with the last-generation car.
Many Corvettes are not topless, although I saw a lot of the open cars at Kassabian's. The new Corvette convertible actually comes with a manual top, which the literature says is easy to use. I enjoyed my optional power top, which, for an extra $2,000, lets me sit in my seat and push a button to get open-air motoring in just 20 seconds.
As before, the panel behind the seats flips open while the top drops below it. Unlike more recent Corvettes, the new generation has a beautifully crafted center piece that gives a little more of the sensuous, twin-seat look from the past. While you might feel a little cooped up in the 'Vette with the top up, once the roof is stashed, life simply feels more wonderful, and every trip is worth celebrating.
I drove on the freeway at night with the top down. I drove in the midday sun with the top down. It was only up when the car was parked.
The 2006 Corvette Convertible starts at $51,390, but my tester, thanks to a generous option list, came to $65,565. You could buy a nice '57 for that, too. Besides the magnetic ride system, automatic transmission and power top, options included upgraded chrome wheels (18-inch front and 19-inch rear tires), a navigation system, and the $3,395 Preferred Equipment Group.
One notable feature of that package is the head-up display, which projects configurable information onto the windshield, visible only to the driver. You can pick the speed and tachometer, or add various other bits of useful information, like oil pressure or water temperature. You can change the layout, too. The package also delivers heated seats, leather seats and all the things that make it "preferred."
While driving a yellow Corvette feels a little flashy, I enjoyed every minute of it. If life seems a little dull, a 20-minute drive in this car will change your perspective.
Source:
http://www.ebpublishing.com/index_slt.html