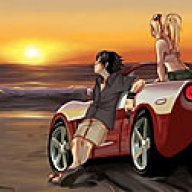 Site Administrator
Staff member
Administrator
Joined

Sep 16, 2000
Messages

13,869
Location
Corvette

1990 Corvette ZR-1
Corvette No. 002 found?
By Old Cars Weekly staff
Ken Amrick reports in the Fall 2006 issue of
On Solid Ground
that the body from Corvette No. 002 may have been located.
On Solid Ground
is the publication of the Solid Axle Corvette Club.
Many modifications and oddities about the early Corvette body appear to be consistent with records showing that body No. 002 served as a test car for production Corvettes, including whether the then-developmental small-block V-8 would work in the two-seater.
GM records show body No. 002 was assigned duty as an engineering test vehicle (and assigned No. 3951), and was used in various V-8 design tests, as well as cooling system, 12-volt power, Powerglide and exhaust development. The body that was recently found was removed when car No. 3951 received a new body in May 1955.
Among the contributing evidence for the found body to be No. 002 are:
• The body has a one-piece floor, thought only to exist among the first 12 Corvette bodies.
• The fiberglass finish is extremely crude, especially in trunk and behind seats, per early cars.
• The right-side inner fender has been reworked to fit a 12-volt battery.
• The brake pedal arm and emergency brake have differences from any other Corvette.
• Several sets of holes in the firewall indicate multiple placements of heater motor and hoses.
• The normal exhaust holes were covered with factory-type materials, and there is evidence that extra exhaust holes were cut in rear fenders, as on 1956-'57 V-8 models. An early photograph known to be of body No. 002 shows two sets of exhaust holes, and they are in the same location on the body of the car in question.
The earliest known Corvette is No. 003, which has been restored to show condition. Corvette No. 001 is known to have been destroyed in a burn test by General Motors.
For more on this early Corvette body, watch your upcoming
Old Cars Weekly
editions for expanded interviews surrounding this car. If you have any details about Corvette No. 002, please contact the owner, Pete Wilzbach, at
peterwilzbach@msn.com
.
For details on joining the Solid Axle Corvette Club, contact Lucy Badenhoop, SACC secretary, P.O. Box 2288, N. Highlands, CA 95660, call 916-991-7040, or e-mail
badenhoop.lucy@bigfoot.com
.
Source:
http://www.oldcarsweekly.com/Default.aspx?tabid=520&articleid=4032&articlemid=1549#1549Articles