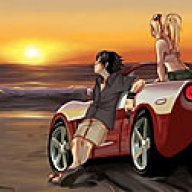 Site Administrator
Staff member
Administrator
Joined

Sep 16, 2000
Messages

13,790
Location
Corvette

1990 Corvette ZR-1
Corvette Racing Finishes Second in 24 Hours of Le Mans
June 17, 2007
No. 63 Corvette C6.R Has Flawless Run to Second Spot on GT1 Podium LE MANS, France, June 17, 2007 - Corvette Racing experienced the agony and the ecstasy of endurance racing in the 75th running of the 24 Hours of Le Mans. Drivers Ron Fellows, Johnny O'Connell and Jan Magnussen piloted their No. 63 Compuware Corvette C6.R to a runner-up finish in the GT1 class and sixth overall in the world's most prestigious sports car race. It was the team's eighth consecutive podium finish, a streak that began with the team's first foray to Le Mans in 2000. While the No. 64 Compuware Corvette of Oliver Gavin, Olivier Beretta and Max Papis was sidelined by a broken driveshaft in the race's second hour, its sister car had a flawless run throughout the long day and night of racing.
Clear skies through the night gave way to storm clouds and heavy rain in the afternoon as the cars raced toward the 3 p.m. finish. With Canadian ace Ron Fellows at the wheel, the No. 63 Corvette C6.R was carving into the one-lap lead held by the No. 009 Aston Martin DBR9. Gaining as much as 30 seconds per lap, Fellows' charge was stymied by a safety car period for rain that began 49 minutes before the scheduled finish. A final 10-minute dash under the green flag was not enough time for Fellows to catch the Aston Martin.
"Visibility was terrible and there were lots of puddles, but we were trying to make up time without hitting anything," said Fellows. "It was a real challenge. I'm not too happy about when that safety car came out, but that's history. The crew and my teammates Jan and Johnny did an incredible job throughout the race. We just didn't have the speed on the straights to match those guys consistently, but the rain was a bit of an equalizer. It should have been a 4 o'clock finish!"
The long-anticipated rain arrived at the start of the 22nd hour. As Fellows entered the pit lane, crew chief Dan Binks exclaimed, "It's raining big time!" The team brought out full rain tires and Fellows stayed in for the final two hours and 53 minutes. When the deluge began, times for the GT1 field slowed by more than a minute per lap on the wet track.
"At the end I thought the rain could save us until the safety car put an end to that," said Jan Magnussen. "Ron was so fast at the end, he was fired up and it was so cool to watch him. He was gaining seconds every lap, and we were calculating when he would catch the Aston Martin. I love those kind of endings.
"It was a great race between two strong rivals," Magnussen continued. "For our part it was almost a perfect race. We didn't stop once in the pits except for fuel, tires or a driver change. It was probably the most flawless Le Mans I've done. The only problem was that there was somebody else who had a nearly flawless run and they were just a tick faster."
The No. 63 Corvette C6.R made 27 pit stops during the race and completed 342 laps, a distance of 2,897 miles. Today's runner-up finish ended Corvette Racing's three-year winning streak in the 24 Hours of Le Mans; the team finished third in 2000 and second in 2003.
"There's disappointment in not winning, but this is an impossible race to win," said Corvette Racing program manager Doug Fehan. "Just the honor of competing with the world's best sports car teams and finishing on the podium is a huge reward. There's no shame in finishing second - we've actually finished second here before and lived through it."
Corvette Racing's next event is the American Le Mans Northeast Grand Prix at Lime Rock Park in Lakeville, Conn. on July 6-7, 2007.
CORVETTE RACING QUOTES:
Johnny O'Connell: "Everybody pulled together and we pushed as hard as we could under very difficult conditions. It was a shame how it ended; we were running 20 to 30 seconds faster than our competition, Ron got back on the same lap, and then the safety car came out. It could have been one of the most exciting finishes in Le Mans history, but it is what it is.
"We're proud of what we did, and hopefully the Aston Martin team will come to the U.S. and race us. Finishing second just makes you hungrier for a win. Under the current rules we were about two seconds per lap slower than the Aston Martins under all conditions except the rain. This is a hard event; and this is the most special race for me. I had my son with me and got to share the experience of Le Mans with him. I guess this means that we've got to keep coming back until we get another win for him."
Mark Kent, Director, GM Racing: "Just finishing at Le Mans is a tremendous accomplishment. I'm tremendously proud of the Corvette Racing team and the efforts of everyone on the team. Their never-give-up attitude is evident in their finish."
-credit: cr/gm racing