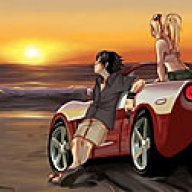 Site Administrator
Staff member
Administrator
Joined

Sep 16, 2000
Messages

13,780
Location
Corvette

1990 Corvette ZR-1
Overcoming incredible odds due to the weather, Antonio Garcia and the #3 Corvette C8.R celebrate a win at the Motul Petite Le Mans​
It's truly amazing to see how successful the all new Corvette C8.R race car is this season compared to the shortfalls the Corvette Racing team faced with the Corvette C7.R the last few years.
The weather was anything but desirable tonight at the Charlotte Motor Speedway as heavy rain and downpours pummeled the track all day.
After a weather delay due to heavy rain, the IMSA WeatherTech Championship started at 9:00 PM with the #3 Corvette C7.R starting in first place with Jordan Taylor behind the wheel. It wasn't long after that the BMW team slide past Taylor to take the first where they would stay for the majority of the race.
During the race, you could see both Corvette C8.R race cars fighting for grip as the rear-end of both kept trying to slide out going through the chicane.
The rain gradually subsided and the Corvette Racing team's major concern turned to whether or not the Michelin rain tires could hold out for the entire race.
Everything got interesting as Antonio Garcia in the #3 C8.R, made his move, and overcame the leading BMW to take back the #1 position.
However, things did not go so well for Tommy Milner in the #4 Corvette C8.R.
Leading in fourth position for most of the race, something appeared to let go on the #4 C8.R as Tommy lost control of the Corvette hitting the side wall and sliding down near the center of the track.
Luckily, Tommy walked away uninjured, but the #4 Corvette C8.R was taken off the track on the top of flatbed due to severe body damage to one quarter of the car.
For Antonio Garcia, once he passed the BMW, he never looked back as he took the checkered flag for the win!
Congratulations to Antonio Garcia and the Corvette Racing Team!
The 10-hour IMSA WeatherTech Championship showdown will take place at Road Atlanta next Saturday, October 17th. The race starts at 12:30 PM ET.