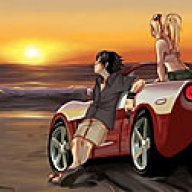 Site Administrator
Staff member
Administrator
Joined

Sep 16, 2000
Messages

13,790
Location
Corvette

1990 Corvette ZR-1
Corvette take dramatic win at Spa
By Matt Beer
Sunday, July 29th 2007, 15:19 GMT
The Carsport Holland Corvette team took a dramatic victory in a rain-affected Spa 24 Hours after their race-long rivals in the No. 1 Vitaphone Maserati spun away the lead with just over an hour to go.
Corvette quartet Marcel Fassler, Jean-Denis Deletraz, Mike Hezemans and Fabrizio Gollin had battled for the lead with Michael Bartels, Thomas Biagi, Pedro Lamy and Eric van de Poele in the Maserati for the majority of the event, but it seemed the Vitaphone crew had secured victory as the race entered its closing stages.
But van de Poele put the Maserati car into the Stavelot gravel as the 23 hour mark approached, just after the charging Fassler had got the Carsport Corvette back on to the lead lap. The Belgian's incident cost Vitaphone a lap, and handed the win to Carsport Holland.
The No. 5 Carsport entry had pulled away early on, having emerged from a three-way battle with the No. 33 JetAlliance Aston Martin and the No. 3 Luc Alphand Aventures Corvette.
A tyre problem then delayed the Carsport No. 5 after four hours, just as their teammates in the No. 4 car moved to the head of the field during a pit stop exchange.
Anthony Kumpen, Frederic Bouvy, Kurt Mollekens and Bert Longin remained in front until nightfall, when a brake problem took them out of contention for victory.
The JetAlliance Aston consequently moved back ahead, but only for an hour before a mechanical problem left it stranded at the trackside. They managed to claim the points on offer for leading at the six hour mark.
The Fassler/Deletraz/Hezemans/Gollin car's recovery saw it in the lead again by the early hours of the morning, where it would remain until rain fell at dawn.
It was at this point that the No. 1 Maserati moved into contention, chasing down the leading Corvette and taking the lead during pit stops with five hours to go.
Conditions would remain wet for the remaining hours, with the gap between the two leading cars fluctuating as the rain intensified and eased. Fassler closed in on leader Biagi when the precipitation was at its heaviest, but the MC12 edged away again once the track dried slightly, and remained in control until van de Poele's late error.
There was no time for the Vitaphone team to get back on terms with the Carsport No. 5, which duly clinched the victory. To complete a superb day for the team, Mollekens, Bouvy, Kumpen and Longin managed to bring the delayed sister car back up to third by the end.
The second Vitaphone car and the best of the Playteam Maseratis completed the top five.
The No. 97 BMS Scuderia Italia Porsche of Marc Lieb, Emmanuel Collard and Matteo Mallucelli won the GT2 class, having led comfortably since Saturday evening.
The AF Corse Ferrari had dominated the early running in the class, before Dirk Muller crashed the car in the fourth hour.
Results to follow