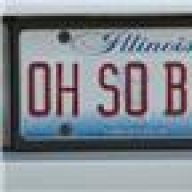 Joined

Jan 27, 2004
Messages

62
Location
Corvette

1994, artic white, zo7, coupe, with a six speed.
Well, I had had both pieces installed Tuesday, picked it up that evening and noticed a big difference in the ride of the car. It rides much firmer, the feel of the road is augmented, but the cowl still shakes a bit. The big test was riding with the roof off. While riding with it off, the feeling of the car flexing is gone, but if the car goes over severe road imperfections, vibrations still are felt in the car. My car has the ZO7 option, and with it set on tour, the car still rides pretty stiff and hard.

So, was this worth installing? I say yes. But those pieces with the roof in makes for the stiffest combination. Before the installation of the the pieces I would never ride with the roof off, but now those days are over. Oh yeah, another plus, the windows on the car seal much better and there were no leaks when I washed it. Because she used to leak like hell on the passenger side.