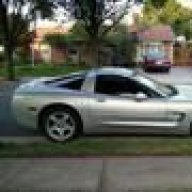 Joined

Oct 22, 2002
Messages

103
Location
Corvette

1998 Sebring Silver C5 Coupe MN6
Ok so i know alot of guys run these on their C5's. I have to say that aside from some of the HRE wheels i've seen, these are prob the best looking wheels for the C5, and i think i'm going to go with them. My questions are the following:
- what sizes can i go with for my 98? whats the biggest/widest wheel combo that would look awesome on this car? (up front and back)
- what size tires should i run and what brand?
- what do most people who have these rims have as far as tire/wheel sizes?
thanks for your help!!!