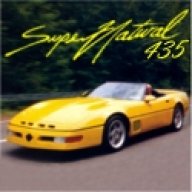 Joined

Apr 3, 2005
Messages

338
Location
Corvette

'92 SNAT435 Yellow aerobody 'vert // 1988 #57 B2K
With the recent topic of CHMSL. How many different C4 Aerobody kits can you name?

I came up with few:

1. # 5 car with square nostrals, first aerobody car.
2. CR1 cars
3. Super Speedster
4. 89 #10 unique front nose
5. 88 #51 "Sledgehammer" unique rear side gills but C4 tail lights
6. DD center exhaust rear AKA Speedster exhaust
7. Normal exhaust with and without tail light, basically a typical Aerobody kit
8. LM kit Although may not be considered aerobody but shares some of the same styling ques

Are there others?