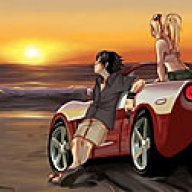 Site Administrator
Staff member
Administrator
Joined

Sep 16, 2000
Messages

13,779
Location
Corvette

1990 Corvette ZR-1
Double trouble
Pair of 1961 Corvettes created from adversity
BY MIKE BERRY
The Wichita Eagle
Posted on Sun, Apr. 01, 2007
They say adversity builds character. In the case of Carl Alter, adversity also helped him build not one, but two, beautiful 1961 Corvettes and a solid friendship with another car nut who knows a thing or two about tough breaks.
Alter grew up poor, yearning for a cool car. "When I was 16, I started working full time at the Kansas Flour Mill at nights because I wanted to buy a car. I had $400 saved up when I found my dream car on South Broadway. It was a red and white '61 Corvette, but they wanted $800 for it. So I had to settle for a '58 Chevy," he recounted.
"I only had it four hours when I got hit by a guy who ran a stop sign," he said. He hadn't had time to transfer his insurance from his old car, so, "I had to keep working to pay off a car I didn't have."
Before leaving for a tour of duty in Vietnam, he married his grade-school sweetheart, Kathy. When he got home, she had bought a beautiful 1965 Mustang GT coupe for them. "I like cars, too," she said.
Both worked as rural mail carriers and they had some nice cars as they raised two daughters . But that red-and-white '61 Corvette never left Carl Alter's mind.
He spotted a tired '61 Vette in 2001 and brought it home. "I looked at that car and said, 'You've got to be kidding me,' " Kathy remembered. "It was a basket case, probably 60-70 percent there," Carl said.
He spent a couple of years working on the restoration. Then a local restorer who had sold him the car told him of another '61 Corvette that could be had for a parts car.
That was Les McGuire's car, which had burst into flames and burned right before his eyes. The driveline was intact, but the bodywork went up in oily black smoke from the gas tank forward. McGuiresold the car to Alter for $2,000 and was almost immediately drafted into the restoration project for his welding and painting skills.
"We used some of the parts off the parts car, but it was a numbers-matching car, so I decided to rebuild it, too," Alter said.
Each car took three years to finish, although the second car needed much more work. It had to have all of its steel "birdcage" rebuilt and Alter and McGuire made a trek to Missouri to buy a Corvette body that was hanging on a garage wall. "We were pretty good friends by then," Alter said.
The first of the twin Vettes is a 283 V-8 fitted with the factory dual four-barrel carb intake and a Muncie four-speed transmission. The car resurrected from McGuire's inferno is the rarer Rochester fuel-injected 283, also with its original four-speed.
"I taught myself how to rebuild a four-speed transmission," Alter said. Midwest Engine Exchange did most of the machine work on the engines, but Alter did the assembly work. The mechanical fuel injection unit was shipped to Pennsylvania for rebuilding. River City Plating handled most of the brightwork.
Today, about the only way to tell the cars apart from the outside is the "Fuel Injection" script on the flanks of the second car.
"It's a beautiful car now," said McGuire.
But the twins are about to be split up. The carbureted car went up for auction on eBay this week. Carl Alter said he normally would be heartbroken to see the car go, "But not since we've got the second one.
"It would be kind of crazy to keep two '61s the same color," he said. "Besides, I kind of need the money to start the next project."
That's right, sitting in his enclosed car hauler is the hulk of another Corvette. A '63 split-window coupe, to be exact. And, yes, it has the "fuelie" engine, too.
Carl and Kathy Alter's twin 1961 Corvettes are virtually identical, until you peek under the hood. One car is powered by a dual-four barrel 283, the other by the much-prized fuelie engine.
Mike Berry/The Wichita Eagle
Carl and Kathy Alter's 1961 Corvettes.
Mike Berry/The Wichita Eagle
Carl and Kathy Alter, left, found a new friend when they bought Les McGuire's fire-gutted Corvette and, with his help, built it into an almost identical twin to the '61 Corvette they already had restored.
Mike Berry/The Wichita Eagle
The first Corvette Carl Alter restored was this sleek 283/dual-four-barrel car. It took the place of the dream car he spotted on a South Broadway lot as a 16-year-old, but couldn't afford.
Mike Berry/The Wichita Eagle
The fuel-injected 283 in the Alters' second Corvette makes it an even more prized driver than their first '61 Vette.
Mike Berry/The Wichita Eagle
Carl Alter decided after he restored his first '61 Corvette to fulfill a high school dream that he really should do a second car. The end result is a pair of bookend Vettes anyone would be proud to own and drive.
Mike Berry/The Wichita Eagle
The Rochester mechanical fuel injection unit on the Alters' second Corvette restoration project sets it apart from the more common carbureted fiberglass sports cars.
Mike Berry/The Wichita Eagle
The first Corvette came with a factory dual-four-barrel carb setup atop the 283 engine. The numbers-matching car still has its original four-speed transmission.
Mike Berry/The Wichita Eagle
The cockpits of both Corvettes feature red-on-red appointments and four-speed shifters.
Mike Berry/The Wichita Eagle
The only outward giveaway between the twin Vettes is the subtle, but all-important "Fuel Injected" script on the flanks of the second car.
Mike Berry/The Wichita Eagle
A friend who had stashed an original KLEO Good Guys tag years ago insisted that it belonged on the front of the fuel-injected Vette.
Mike Berry/The Wichita Eagle