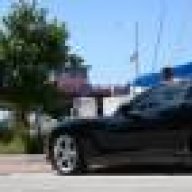 Joined

May 15, 2006
Messages

113
Location
Corvette

2012 Supersonic Blue Grand Sport
I took a trip to
Lakeland
,
FL
from
Fort Lauderdale
in the Ghost Machine over the Labor Day weekend to visit some frien
ds
. Hit the FL Turnpike to Yeehaw Junction and then took Hwy 60 over. Put a bit over 500 miles on the car and have some impressions to share…
1.
Gas mileage is amazing. Over 27M
PG
with the AC on and at 75+ most of the trip. (Except near Lake Wales where the Polk County Sheriff's deputies were busy welcoming motorists to the area!)
2.
The driveline tunnel gets WARM!
3.
Passing power---Wow….
4.
Ya gotta love those amber DRLs. Most left-hand lane hogs moved over fairly readily.
5.
Took some heavy downpours on the trip and the stability in the rain is awesome.
6.
XM Radio is heaven sent… :eyerole
There must be a
malf
unction in my GPS unit as it indicates a max speed of 111 MPH. I swear, I never exceeded the perceived speed limit….Laisse le bon temps rouler!
This is my first Corvette and I have to say I am one happy guy. My only two gripes about the car are the floormats (pretty cheap… the replacements are on order thru Baily MS) and the ashtray door that won't stay closed. (I've seen the thread for that fix).