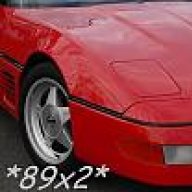 Joined

Feb 18, 2002
Messages

10,357
Location
DRIVING; To Be the Fastest Car on the Road
NYTimes said:

By JIM MOTAVALLI
Published: February 28, 2003
REEVES CALLAWAY builds one of the fastest and most exclusive cars in the world, the 188-mile-per-hour Callaway C12. Never seen one? It's not surprising; only 26 of them exist.
At the heart of the C12 is a Corvette, with a 440-horsepower version of a Corvette engine. But the C12 is lower, sleeker and more exotic than a Corvette, with body panels made in Germany and sculptured to create an aggressive feline crouch. It can zoom from zero to 60 m.p.h. in a heart-stopping four and a half seconds, and four-piston disc brakes stop it almost as quickly.
Driving a C12 is both exhilarating and nerve-racking. (Andrew J. McKelvey, the chief executive of TMP Worldwide, an advertising and corporate staffing company, was gracious enough to lend his for a brief spin.) It roars as it moves down a Manhattan avenue, but it is surprisingly docile while waiting out the red lights. When there is a chance to open it up a bit, its driver learns how quickly another vehicle far ahead can become an imminent obstacle.
Mr. Callaway would like to sell more C12's, though he is not willing to bring down the $225,000 price. But they are only a sideline to his basic business: modifying cars for companies like Ford and General Motors to make them go faster -- a lot faster.
Automakers busy churning out high-volume models often don't have time to develop limited-edition, high-performance versions, but those are the cars that attract breathless publicity, and their luster can give a manufacturer both prestige and that valuable public approval known as street cred. The phrase ''Race on Sunday, sell on Monday'' is as old as the car business. So the companies hire people like Mr. Callaway to take popular models -- like the Corvette, his specialty -- and modify them with more powerful engines, lighter and more aerodynamic bodies, some of the biggest brakes on the planet, advanced suspension designs and special road-gripping tires.
Mr. Callaway's company, Callaway Cars, is based in Old Lyme, Conn., and about to expand to Orange County, Calif. Its two buildings in Old Lyme amount to 18,000 square feet and look more like corporate offices than palaces of speed, though the parking lot holds its share of exotica. Where you might expect to find greasy engines dripping oil onto a scarred concrete floor, you see surgically clean white rooms with polished engines sitting on test beds, wired to banks of computers. The staff of 40 walks around in Dockers and polo shirts with the Callaway logo. Mr. Callaway spends much of his time looking for new business. ''That's why we're expanding to California,'' he said. Orange County is where many of the Japanese and European companies have their American headquarters.
Mr. Callaway, 54, is the son of Ely Callaway (who introduced the Big Bertha golf club) and, since 2000, the husband of Sue Callaway, a onetime Jaguar North America executive and Fortune magazine auto writer who is now expecting the couple's first child. He was an open-wheel Formula Vee racing driver in the early 1970's and won a national championship in 1973, but was diverted into modifying sports cars after fitting a turbocharger to a BMW 320i he had used for teaching racing. A one-page article about it appeared in Car and Driver magazine in 1977, and soon other BMW owners were looking for him. Callaway Cars became a serious business.
In 1984, with the blessing of Alfa Romeo's American distributor, Mr. Callaway added not one but two turbochargers to the Alfa GTV6, which had been selling slowly in the United States. The 154-horsepower engine was transformed into a 230-horsepower screamer that could rocket the car to 60 m.p.h. in 5.9 seconds. The car was sold for $24,000 as the Callaway Twin Turbo and got rave reviews in automobile magazines. That caught the attention of Chevrolet and led directly to a deal to build the 191-m.p.h. Twin Turbo Corvette. More than 500 of them were sold through Chevrolet dealers from 1986 to 1991.
Since then, Mr. Callaway has tuned engines for Aston Martin, Mazda, Land Rover and the Australian automaker Holden. The Land Rover connection resulted in a run of 220 high-performance, 240-horsepower versions of the Range Rover 4.6 HSE and a supercharged version of the Freelander that has remained a show car.

Though Jaguar and Land Rover are joined in Ford's Premier Automotive Group, Mr. Callaway said his wife had nothing to do with his Land Rover deal. ''Sue wasn't involved,'' he said. ''They keep their brand identities strictly separate at Ford.''
Mr. Callaway loses money on his star car, the C12, he said. ''You'd think we could sneak a few dollars' profit from the car, wouldn't you?'' he asked in a telephone interview from California. ''Here's the conundrum: Supercar buyers are after highly crafted exclusivity, and that's what we provide. Unfortunately, if we built several thousand cars a year to actually make a profit, then the C12 wouldn't be exclusive anymore.'' He added: ''Ferrari does it right. At 2,500 to 4,000 cars a year you can be very profitable.''
A moneymaker or not, the Callaway C12 runs in fast company. Its owners tend to be high-profile entrepreneurs who don't mind flaunting their wealth. One is Mr. McKelvey, a 68-year-old entrepreneur whose company owns Monster.com. He uses his bright yellow Callaway C12 to drive his daughter to school in Manhattan.
''I'm just an ordinary guy who wanted some fun,'' Mr. McKelvey said. ''I can't drive that car in New York for more than five minutes without 10 people asking what it is and who makes it. They want to know how fast it goes, and I point to the speedometer.'' It goes up to 300, and Mr. McKelvey sometimes forgets to point out that that's kilometers per hour, not miles. (It translates to 188 m.p.h., two miles an hour short of the top speed Mr. Callaway claims for the car.)
Otis Chandler, the former Los Angeles Times publisher who now describes himself as a 75-year-old car freak, owns two Callaway C12's, a 1998 coupe and a 1999 convertible, the only one made. ''They're incredibly beautiful cars,'' Mr. Chandler said, speaking by phone from California, ''without a bad angle on them.''
Although he owns 80 other vehicles, including Porsches and Ferraris, and displays them in his own Vintage Museum in Oxnard, Calif., Mr. Chandler said he spent considerable time behind the wheel of his C12's, and he praised their user-friendly qualities, many carried over from the production Corvettes on which the cars are based.
''The interesting thing about Reeves,'' Mr. Chandler said, ''is he doesn't build out of whole cloth, but retains the best of what's already there to make sure he ends up with a drivable car. He's like a mad scientist who works with all these exotic parts and doesn't stop until he's turned them into something great.''
Mr. Callaway has little use for garage-queen supercars like the Vector WX3, a failed American-built exotic that claimed an output of 1,200 horsepower and a top speed of 250 miles an hour but was never really fit for daily use. ''I start with a standard Corvette,'' he said, ''which General Motors spent $600 million developing, then change the things that don't work well, don't sound good or feel good.''
The C12 is a rolling brochure for his engineering work. ''It's a way to hand the keys to a C.E.O. of a car company and say, 'Look what we can do,' '' he said.
A second business, Callaway Competition, based in Leingarten, Germany, supplies C12 body parts and provides high-performance engineering to Mercedes, Porsche and Audi. From this German base, Mr. Callaway has launched several assaults on the richly historical 24 Hours of Le Mans in France. High-profile racing is very expensive, and often heartbreaking, but a win would probably persuade a few more billionaires to buy Callaway C12's -- and get more automakers in line with contracts for more lucrative work.

THE SPEED NICHE
Horsepower and Carbon-Fiber Bodies

EXOTIC as it is, the Callaway C12 has plenty of competition from other small fabricators vying to produce the fastest street car in America. Here are a few.

SALEEN S7 -- A joint venture between the speciality manufacturer Steve Saleen and S. A. Johnson, the chairman of Hidden Creek Industries of Minneapolis. With four turbos, a carbon-fiber body and a 550-horsepower engine, it reaches speeds of more than 200 miles per hour and goes from zero to 60 m.p.h. in 3.4 seconds. It placed third in its GTS class at Le Mans in 2001. Air-conditioning, a six-CD changer, video-based rear-view mirror, leather seats for two and fitted luggage are standard. Price: $395,000.

MUSTANG-BASED SALEENS -- At the entry level is the 285-horsepower S281, a mildly customized Mustang coupe for $34,194. At the high end is the SR coupe, with 505 horsepower, selling for $158,000. Available at some Ford dealerships.

ROUSH MUSTANG 380R -- Jack Roush's cars have been described by BestStuff.com as ''sparking more lust from adolescent boys than an Angelina Jolie poster.'' This one produces 379 horsepower and is advertised as ''the fastest car under $40,000,'' though options will quickly carry the price higher than that. Produced by Roush Industries of Livonia, Mich., and sold at some Ford dealerships.

MOSLER MT900S -- Like the Callaway C12, the Mosler features a tuned version of the Corvette Z06 V-8 engine; this one produces 435 horsepower. Built of strong but lightweight carbon fiber, it weighs less than 2,000 pounds without fuel and looks like a classic highway patrol magnet. Price: $159,000. Made by Mosler Automotive of Riviera Beach, Fla.

SHELBY COBRAS -- Fortieth anniversary versions of the 1962 Cobra designed by Carroll Shelby (the 289 street car in fiberglass and the 427 S/C in aluminum) are limited to a combined total of 40 -- and 30 are already sold. Made by Shelby American of Las Vegas. Prices: $74,500 and $87,500 (sold without transmissions or motors).

SHELBY SERIES 2 ROADSTER -- Names are being taken of people interested in buying this latest generation of Mr. Shelby's sports car. It will have a carbon-fiber body and the base price is expected to be around $125,000 when it becomes available later in the year.