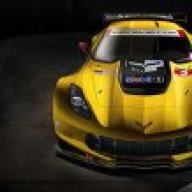 Joined

Apr 11, 2002
Messages

37
Location
Corvette

2014 C7 Z51 SILVER/RED
I can remember reading lots of 2001 Stock Z06 DYNO results and printouts over the past year on various Corvette forums.

I am having a small dispute with some colleagues regarding the Flywheel/advertised horsepower of the 'bone stock' 2001 Z06 Corvettes, as determined at 'reliable' Dyno shops across the country.

The issues are:

(1) What is/are the corrected readings for the Stock 2001 Z06 on a reputable/honest Dynamometer....i.e. xxx.x RWHP; and yyy.y Torque at x RPM.

(2) Is the conversion of .85 "accepted" as the measurement to convert the RWHP to HP at the Flywheel (as compared to the advertised 385 HP). (eg. 344 RWHP divided by .85 equals 404.7 FWHP).

Would appreciate input from all you experts....