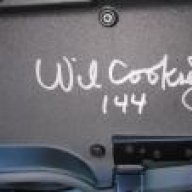 Joined

Jun 19, 2005
Messages

154
Location
Corvette

'08 Will Cooksey #144 Z06
Well.... I went today, anyone else have an opinion ??
Perfect weather other than the 90 degree plus heat!....
Florida, "The land of sunshine"! Gotta love it!!
Very large display of Vette's, but the C5's dominated big time in numbers....well over a hundred plus and a large collection of just about everything you can imagine for C5's. From Corvette Venders with product on display to full blown body modifications...all there and
lookin' good!

As a recent :cry previous owner of a '96 C4/LT4, I was surprised at the lack of C4's...maybe 20/30 or so and the numbers of those on display was somewhat disappointing to say the least...:eyerole Oh, ya a couple of beauties, (Grand Sports) but not the numbers like last years event. I did not see one ZR1!!
Just a hand full of C6's...maybe 20 of them....with a couple of ZO6's taking all the attention.
The older models of C1/2/3's...all were gorgeous as you would expect!
Ecklers offers a great place to gather and hang out but as last year it is held at the same time as Daytona's "Biketoberfest" (30 miles north) and the attendence is not as one would expect. Most of the crowd were people with cars on display, just did not look like many "Regular Joe's" attended this free event...:confused
Anyone else have a comment for those that did not make the trip??