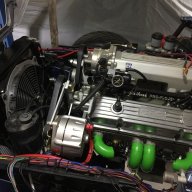 Joined

Dec 19, 2010
Messages

189
Location
Corvette

1984 Two-tone Blue Coupe
Hi everyone,
I emailed one of the speed shops in Australia today to enquire about purchasing an Edelbrock High Flow TPI Intake Base (3861) and they said that Edelbrock had discontinued them...WTF?

ad
I then did a quick search online, Summit was out of stock with a big discontinued banner, but Jegs had 9 in stock.
Well they have 8 in stock now...
Looks like due to supply and demand, the parts for TPI's will dry up.
I am retro fitting a TPI unit to my 84, with a good set of heads, roller cam and lifters (Comp Cams 12-467-8). Am also looking at the FAST EFI Management system to run the TPI, self tuning no need for a laptop and no need for changing chips if I change the set up.
Also no need to run a 30 year old harness and ECM.
I managed to get a used TPI without ECM and harness and it is on its way across the Pacific Ocean, also picked up some Edelbrock runners and now the intake.
If your after one of these intakes, best act now.